Hi there 3CX Partners and End Users! I hope you're all having a good start to the week. My morning began with a "most loved" task of mine: reporting. While validating some topics and categories within our ticketing system, I came across a rather frequently asked question / statement from our customers:
My Provisioning files are not generated
or
My Provisioning files are not up to date
First of all, I am very pleased to find these comments; it shows that our customers are demonstrating the knowledge and skills for debugging 3CX. A thumbs up to everyone who reported this! Let me shed some light into this:
Provisioning Folder
If you don't know what the provisioning folder is, here is a short description: The provisioning folder is used to present endpoints (IP phones and 3CX clients) and the optimal running configuration for your own 3CX installation. These files are requested by the terminals via HTTP or HTTPs in order to get provisioned. They are mainly static but change when BLFs are assigned or the extension is renamed. Endpoints tend to reload the configuration every 24h to keep up to date with the information. If you don't like the sound of waiting 24h until the changes are applied, you can "Reprovision" the endpoint from the console, causing the phone to reload the config (endpoints may reboot).

Gone Baby Gone
First of all, good news! As of V15 it is likely that the provisioning folder does not contain any provisioning files and that a file which might have remained there from an upgrade is not updated.
For security measures the PBX does not store the files on the disc. The reason is very simple, maybe the person administering / hosting your system is not the same person that is in charge of the administration of 3CX. Presenting the config file to these people would be not a wise idea…
From now on, with each request a terminal sends, a fresh copy will be issued on the fly and directly answered by the 3CX Management Console. It also helps avoid outdated information being saved in those files as nothing is stored permanently.
Here is the default content of the provisioning directory: some generic files for phone provisioning, firmware, logos, custom templates and the company phone book for the endpoint.
Do you see me now?
A valid question is how can I see what is inside of this provisioning file which is loaded by the Endpoint? We have you covered. From the management console go to the "Phones" node and select a connected phone then press on the "Config +" button. It will open the current configuration (provisioning file) which is assigned to that particular endpoint…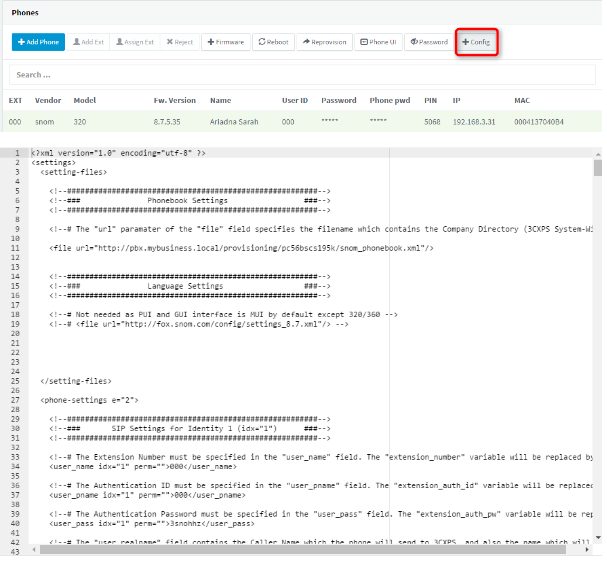 Note: If you make changes to a provisioning file and/or supply your phone with a custom template, remember that the Management console caches the template state at startup. Any changes made after the start of the service to the templates is not known to the service and a cached version of the template is generated. A restart of the "Management Console Service (3CXMC01)" is required to reload your changes and issue the latest version of configuration files. Side note from the support policies: debugging in support cases of IP phones can only be done while the phone is running the stock provisioning template made by 3CX…
Enjoy, Stefan