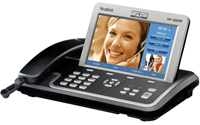 3CX (www.3cx.com), the international developer of the multi-awarded 3CX Phone System for Windows and Yealink Network Technology CO., Ltd. (www.yealink.com)  a leading designer and manufacturer of IP Voice and Video Phones, announced today successful interoperability testing between 3CX Phone System and Yealink IP Phones.
Nick Galea, CEO, 3CX says "We are pleased to announce interoperability with Yealink. Yealink phones are easy to configure and very cost effective – they are an excellent addition to the range of IP phones that we support. 3CX customers and partners can be assured that Yealink phones are fully tested and supported with 3CX."
"We are very pleased with the interoperability of our award-winning products and 3CX. The combination of the 3CX IP PBX and our Enterprise HD IP Phone create an excellent value and innovation solution for the Small and Medium Businesses." said Stone Lu, VP of Yealink.
3CX Phone System for Windows is based on the SIP standard and supports most popular SIP phones, VoIP Gateways, VoIP service providers and PSTN phone lines. It offers a scalable and easy to install alternative to proprietary PABX telephony solutions; whilst giving businesses access to a full set of advanced telephony features that allow them to reduce telecommunications costs by enhancing staff's mobility and productivity.
Yealink SIP-T2x series enterprise HD IP Phones, including SIP-T28P/SIP-T26P/SIP-T22P/SIP-T20P, equipped with the TI TITAN chipset and TI Voice Engine, offer high definition voice, broad range of voice codecs, security protection for privacy, and rich features including BLF/BLA, PoE, Pnp Auto-provision, and seamlessly work with 3CX.
About Yealink
Yealink is professional designer and manufacturer of IP phones and video phones for the world-wide broadband telephony market. Yealink products are fully compatible with the SIP industry standard, and have broad interoperability with the major IP-PBX, softswitch and IMS on the market today. For more information visit: http://www.yealink.com.
About 3CX
3CX is an international developer of telecommunications software. 3CX is a Microsoft Gold Certified partner and is backed by an experienced management and development team. Its product, 3CX Phone System for Windows, developed specifically for the SMB market, has earned Windows Server 2003 Certification and has received numerous awards, including the TMC Labs 2007 Innovation Award, The Windowsnetworking.com Gold Award, as well as, the IT EXPO Best of Show award 2007 and the INTERNET Telephony Magazine Product of the Year Award all in recognition to the company' commitment to innovation and quality. 3CX maintains a global presence with offices in 9 countries and localized information available in various languages.