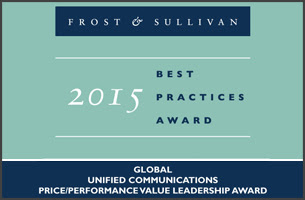 Company earned 2015 Price/Performance Value Leadership Award for 3CX Phone System
LONDON, UK – 01 MARCH 2016 – 3CX, developer of the next-generation, software-based PBX 3CX Phone System, has been singled out by Frost & Sullivan for market leadership, earning an award for its high-quality, software-based Unified Communications solution.
Frost & Sullivan, a global leader in the information and growth consulting industry for more than 50 years, said that the software-based 3CX Phone System "excelled in terms of user features, architectural flexibility, ease of use and management," in the award analysis.
The industry expert cited 3CX for its rapid annual growth rate, unequalled in the UC market, saying, "3CX's expanding customer base and double-digit annual revenue growth rates demonstrate its ability to deliver superior performance and value in a dynamic and challenging market."
"3CX is on the cutting edge of innovation in a fiercely competitive market," the expert said. "3CX stands out among unified communications vendors with its innovative technology, compelling feature set, competitive pricing, and ability to respond to evolving market conditions and customer demand."
Elka Popova, Program Director and Senior Fellow, Connected Work Digital Transformation, Frost & Sullivan said:
"Today, market evolution is driven by customer need to lower communications infrastructure costs and improve business agility. With its compelling functionality and lower total cost of ownership (TCO), 3CX has earned Frost & Sullivan's recognition as the price/performance value leader in the unified communications market. It is well positioned to capture growing customer demand for innovative solutions that provide a competitive edge while reducing the burden on internal resources. Through a strong value proposition, 3CX is better able to address changing market requirements and increasing competitive pressures than other market participants."

Nick Galea, CEO, 3CX, said:
"Frost & Sullivan is one of the leading analyst firms in our industry, and we are proud to receive this distinction. Frost & Sullivan has recognized 3CX for its growing importance in the UC market, in terms of its large and fast-growing installed base and high-quality technology. There is a clear trend towards software-based PBXs, and Frost & Sullivan has acknowledged that the features we provide are on the cusp of industry trends."
Rich and Robust Set of Features
The award cites the rich and robust set of features available in 3CX Phone System, including voicemail and fax to email, instant messaging and presence, audio and video conferencing, smartphone and softphone clients, CRM integration and call center features.
Quality, however, is much higher at 3CX, the award analysis says. Frost & Sullivan stresses the ease of use of 3CX Phone System: "Compared with most other communications solutions, 3CX Phone System provides a greater ease of deployment, management and use for both IT admins and end users."
Compelling Feature Set, Continuous Innovation
3CX has successfully aligned technology features development with key customer trends, Frost & Sullivan says. Businesses want improved collaboration among remote workers, and they want it to be served by powerful Unified Communications tools.
"3CX's compelling feature set and continuous innovation resonate well with business customers," the award analysis says. "Businesses of all sizes and industries use 3CX's comprehensive Unified Communication capabilities to support their diverse workforce. All-inclusive licence bundles allow customer organizations to economically deliver advanced features (e.g., video conferencing, soft phones) to their entire user base.
Solution enhancements around deeper WebRTC integration with existing SIP technologies, greater HIPAA and PCI compliance, and more detailed reporting will further expand 3CX Phone System's appeal.
The award analysis noted that 3CX, as a software-based solution, is managed from a user-friendly, Web-based console, providing a single point of support for the whole system. Users can view contact presence and choose a desk phone, a mobile device or a PC soft client to message, call and conference others, according to their availability and needs.
Award-winning performance
With its strong overall performance, 3CX has earned Frost & Sullivan's 2015 Price/Performance Value Leadership Award.
About 3CX (www.3cx.com)
3CX is a 100% channel company and is the developer of a software-based and open standards IP PBX which innovates communications and replaces proprietary PBXs. 3CX cuts telco costs and boosts company productivity and mobility.
With integrated WebRTC web conferencing, softphones for Mac and Windows and smartphone clients for Android, iOS and Windows phones, 3CX offers companies a complete Unified Communications package out of the box.
250,000 customers worldwide use 3CX including Boeing, McDonalds, Hugo Boss, Ramada Plaza Antwerp, Harley Davidson, Wilson Sporting Goods and Pepsi. Maintaining its global presence, 3CX has offices in the U.S., U.K., Germany, South Africa, Russia and Australia. Visit 3CX on Facebook, Twitter and on Google+.
About Frost & Sullivan (http://ww2.frost.com/)
Frost & Sullivan, the Growth Partnership Company, works in collaboration with clients to leverage visionary innovation that addresses the global challenges and related growth opportunities that will make or break today's market participants. Our "Growth Partnership" supports clients by addressing these opportunities and incorporating two key elements driving visionary innovation: The Integrated Value Proposition and The Partnership Infrastructure.
The Integrated Value Proposition provides support to our clients throughout all phases of their journey to visionary innovation including: research, analysis, strategy, vision, innovation and implementation.
The Partnership Infrastructure is entirely unique as it constructs the foundation upon which visionary innovation becomes possible. This includes our 360 degree research, comprehensive industry coverage, career best practices as well as our global footprint of more than 40 offices.
For more than 50 years, we have been developing growth strategies for the global 1000, emerging businesses, the public sector and the investment community. Is your organization prepared for the next profound wave of industry convergence, disruptive technologies, increasing competitive intensity, Mega Trends, breakthrough best practices, changing customer dynamics and emerging economies?
Contact Us: Start the discussion
Join Us: Join our community
Subscribe: Newsletter on "the next big thing"
Register: Gain access to visionary innovation
Contact:
Mireya Espinoza
P: 210. 247.3870
F: 210.348.1003
E: mireya.espinoza@frost.com