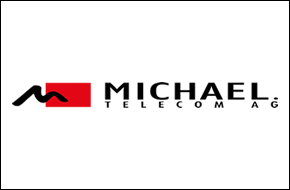 3CX is rapidly gaining more market share in Germany with newly appointed distributor MICHAELTELECOM AG
MUNICH & BOHMTE, GERMANY, XX MARCH 2015 – 3CX, developer of next generation software-based PBX 3CX Phone System for Windows, today announces the appointment of MICHAELTELECOM AG as a new 3CX Distributor in Germany. MICHAELTELECOM AG offer a deep and wide product portfolio giving partners the freedom of a one- stop shopping distributor for the IT technology or Telecommunications sector.
MICHAELTELECOM AG will provide regular sales and technical trainings for 3CX Partners in Germany in the form of webinars as well as face-to-face trainings.
Marcus Kogel, Sales Manager EMEA 3CX said:
"The appointment of MICHAELTELECOM AG as a new 3CX Distributor for Germany gives 3CX Partners the ability to tap into their pool of expertise within the industry. We are confident that MICHAELTELECOM AG will provide 3CX Partners with solutions that they can benefit from and increase their revenue. 3CX are committed to gaining more market share in Germany and with MICHAELTELECOM AG we expect to experience exponential growth."

Magnus Michael, COO MICHAELTELECOM said:
"3CX Products will provide solutions to resellers, which they can use to take their customers to the next level of communication in the very profitable market of cloud telephony. MICHAELTELECOM AG made this step forward in order to develop their product portfolio too. Therefore, MICHAELTELECOM, as a leader in the PBX distribution market, is well ahead in the market and provides high quality service and closes the gap between the telecommunication and the cloud telephony market."
About 3CX (www.3cx.com)
3CX is the developer of the award-winning 3CX Phone System, an open standard unified communications platform for Windows that works with standard SIP phones. Designed with the IT administrator in mind, 3CX Phone System is easy to install and manage, and can cut call costs by up to 70%.
Some of the world's leading companies and organizations use 3CX Phone System, including: Boeing, Mitsubishi Motors, Intercontinental Hotels & Resorts, Harley Davidson, City of Vienna and Pepsi.
3CX has been awarded the 2014 Comms National Award for 'Best On-Premise Enterprise Solution' and has been featured in CRN's Annual Network Connectivity Services Partner Program Guide for 2014. 3CX was awarded CRN's 5-Star Partner Program rating in 2013.
Visit us at: https://www.3cx.com & on Facebook at: https://www.facebook.com/3CX. Follow us on Twitter@3cx.
About MICHAELTELECOM AG (www.michael-telecom.de)
Distributor
Optimal process flow, high credibility and a very stable business model are some of our core competencies' at MICHAELTELECOM AG. Our very deep and wide product portfolio provide the freedom of a one stop shopping distributor with a very high competency in all cases of the IT technology or Telecommunication sectors.
Provider
The Cell-phone Plan experts at the MICHAELTELECOM AG will offer the best solutionsin order to provide customers the best satisfaction, with the best commission for their contract closing.
Trainer
The MICHAELTELECOM AG is the training center to go to to satisfy needs of a high efficient and deep knowledge about IT and Telecommunication technology. Our certified trainers are some of the best in the industry, based on market surveys from the leading IT Magazines.