3CX Expands its Presence in the German Market with New Distributor KOMSA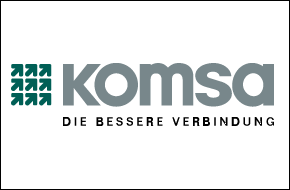 MUNICH & HARTMANNSDORF, GERMANY, 10 MARCH 2015 – 3CX, developer of next generation software-based PBX 3CX Phone System for Windows, today announces the appointment of German-based company KOMSA to its growing list of German distributors. 3CX continues to expand in Germany, one of the largest VoIP markets worldwide.
KOMSA is an established distributor in the German market and will provide 3CX Partners with regular sales and technical trainings, both in the form of webinars and traditional classrooms. KOMSA will assist 3CX German Partners with increasing their revenue and benefiting from the VoIP boom.
Marcus Kogel, Sales Manager EMEA 3CX said:
"3CX is committed to growing its German market share and with strong distribution partners like KOMSA this is sure to happen. KOMSA is one of the leading service providers in the information and communications technology sector (ICT) with specialization in distribution, integrated services as well as repair. We are confident that KOMSA will offer a high level of customer service and technical expertise to our partners".

Anja Kratzer, Head of Product Management KOMSA said:

"3CX adds to our portfolio an international established and sophisticated solution regarding communication. With the easy integration of mobile devices and numerous technical innovations 3CX offers our partners an additional benefit in the consultancy of small and medium-sized enterprises".
About 3CX (www.3cx.com)
3CX is the developer of the award-winning 3CX Phone System, an open standard unified communications platform for Windows that works with standard SIP phones. Designed with the IT administrator in mind, 3CX Phone System is easy to install and manage, and can cut call costs by up to 70%.
Some of the world's leading companies and organizations use 3CX Phone System, including: Boeing, Mitsubishi Motors, Intercontinental Hotels & Resorts, Harley Davidson, City of Vienna and Pepsi.
3CX has been awarded the 2014 Comms National Award for 'Best On-Premise Enterprise Solution' and has been featured in CRN's Annual Network Connectivity Services Partner Program Guide for 2014. 3CX was awarded CRN's 5-Star Partner Program rating in 2013.
Visit us at: https://www.3cx.com & on Facebook at: https://www.facebook.com/3CX. Follow us on Twitter@3cx.
About KOMSA (www.komsa.de)
KOMSA is one of the leading service providers in the information and communications technology sector (ICT) in Europe. We are specialists in the core areas distribution, services and repair and a partner of all renowned manufacturers and network operators in the industry. We offer products and solutions from a single source to our commercial partners and a channel-specific distribution of goods together with related services to our industrial partners. To both groups we guarantee efficient support of the highest quality at best costs. Together with our subsidiaries, we as KOMSA Group serve more than 10,000 resellers, among them 4,500 specialized dealers and system houses.