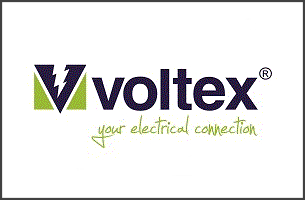 LONDON, UK, 24 NOVEMBER 2017 – 3CX, developer of the next-generation software-based Unified Communications system, is pleased to announce the successful deployment of its popular VoIP PBX solution amongst the branch locations of South African electronics and lighting suppliers, Voltex. Voltex is the largest electrical wholesaler in the country and carries a staff of over 2,100, a fleet of over 800 vehicles and caters to the commercial, industrial and residential markets.
The company was in need of a communications solution that would enable their growing staff to keep up with the non-stop pace of distributing vital building supplies and services. Voltex's outdated Nortel PBX was no longer able to cope with the burgeoning demands placed on the system and was beginning to stunt the growth of the company. What's more, the increasingly expensive service and repair costs pushed Network Telecommunications Manager, Nerson Munsamy, to seek out a more modern and affordable solution without compromising on features or functionality.
"Expenses with our old phone system were mounting, and with such a limited number of features, it was clear that the diminishing return on our investment demanded that we make a swift change to a PBX that is more in line with our current needs and future goals. This made the decision to move to 3CX a simple one." – Nerson Munsamy, Network Telecommunications Manager, Voltex
Voltex experienced instant deployment with 3CX partner 3C Technology and noted that after implementing 3CX, the company saw an improvement in employee productivity, efficiency and reduced costs. Additionally, the ease of which Munsamy was able to connect remote branches has allowed an increase in collaboration and a boost in customer satisfaction.
Find out more about Voltex's success with 3CX in our case study.
About 3CX (www.3cx.com)
3CX is a 100% channel company and is the developer of a software-based and open standards IP PBX which innovates communications and replaces proprietary PBXs. 3CX cuts telco costs and boosts company productivity and mobility.
With integrated WebRTC web conferencing, softphones for Mac and Windows and smartphone clients for Android, iOS and Windows phones, 3CX offers companies a complete Unified Communications package out of the box.
250,000 customers worldwide use 3CX including Boeing, McDonalds, Hugo Boss, Ramada Plaza Antwerp, Harley Davidson, Wilson Sporting Goods and Pepsi. Maintaining its global presence, 3CX has offices in the U.S., U.K., Germany, South Africa, Russia and Australia. Visit 3CX on Facebook, Twitter and on Google+.
About 3C Technology (www.3ctechnology.co.za)
Konica Minolta KZN, a leading Konica Minolta Distributor and Service Centre in Kwazulu Natal and South Africa was formed in 1996, by Andre Joubert & Steve Cooper. Konica Minolta KZN expanded into the Information Communication Technology (ICT) Sector and in 2012 rebranded as 3C TECHNOLOGY. Providing Full Turnkey Solutions, 3C Technology seamlessly integrates technology with state of the art of equipment to minimize environment impact and increase productivity thereby making technology an asset in your business. Customer Satisfaction & Commitment is critical to us and our hands on approach through our Technical Support Teams provides for guaranteed Optimal Service Levels and Standards by 3C Technology.