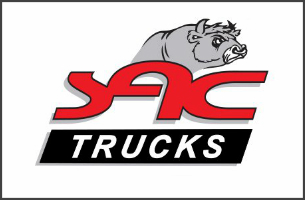 LONDON, UK, 14 March 2018 – 3CX, developer of the next-generation software-based Unified Communications system, today announces that South African motor parts distributor, SAC Trucks, has selected 3CX's innovative IP PBX solution as part of its efforts to boost growth for the quickly expanding company. SAC Trucks is the leading distributor of parts for cars and motor vehicles in the region and has built its strong reputation by providing high quality products and unbeatable customer service.
With around 700 employees it was essential for SAC Trucks to enable its staff to communicate efficiently and productively if the company was to continue at the same rate of success and growth. In order to help cement its position in the market, they needed a scalable phone system that was easy to manage and could provide more features than their previous on-premise system. For I.T. Manager, Derick Mulder, the choice was clear.
"As a rapidly growing company in an equally fast growing technological age, we had to find a system that was unified, extremely flexible, reliable, easy to use yet powerful. Our old system was not unified, was inflexible, difficult to configure, and extremely unreliable to say the least. I am pleased to say that our 3CX system ticks every box on our list—and more! Thank you 3CX!" – Derick Mulder, IT Manager, SAC Trucks
In addition to 3CX's advanced UC features and scalability, Mulder was particularly impressed with the ease and swiftness of installation, which was carried out in just a few short hours.
Find out more about SAC Trucks 3CX deployment and how they are now benefiting from a modern and intuitive UC solution. 
About 3CX (www.3cx.com)
3CX is a 100% channel company and is the developer of a software-based and open standards IP PBX which innovates communications and replaces proprietary PBXs. 3CX cuts telco costs and boosts company productivity and mobility.
With integrated WebRTC web conferencing, softphones for Mac and Windows and smartphone clients for Android, iOS and Windows phones, 3CX offers companies a complete Unified Communications package out of the box.
250,000 customers worldwide use 3CX including Boeing, McDonalds, Hugo Boss, Ramada Plaza Antwerp, Harley Davidson, Wilson Sporting Goods and Pepsi. Maintaining its global presence, 3CX has offices in the U.S., U.K., Germany, South Africa, Russia and Australia. Visit 3CX on Facebook, Twitter and on Google+.
About Creditel Business Solutions (www.creditel.co.za)
At Creditel we strive to provide the best possible solutions for our customers and we work towards providing efficient and reliable communications connecting your business to every corner of the world. In a constantly evolving technological landscape, Creditel keeps up with the latest innovations ensuring that your company is always offered the best solutions to suit your needs.