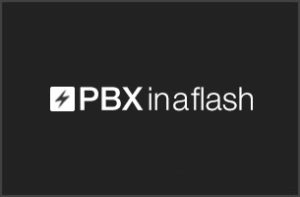 PBX in a Flash selects 3CX as core service for the next version of its PBX suite.
LONDON, UK, 19 OCTOBER 2016 – 3CX, developer of the next-generation software-based Unified Communications System announces that PBX in a Flash 5, has chosen 3CX to power the next version of its popular suite.
PBX in a Flash is a VoIP suite that allows users/companies to easily install and configure a complete PBX. The solution is used by tens of thousands of users and companies around the world and is supported on its forums by a large and loyal community.
The current version of PBX in a Flash is powered by Asterisk®* / FreePBX®, but version 5 will use the new Linux-based version of 3CX instead. Debian 8 is a state-of-the-art Linux distribution used in the very best server products.
Nick Galea, CEO 3CX said:
"We are extremely honored to power PBX in a Flash 5. It's an established and respected PBX suite and winning its endorsement for our Linux version is a massive win for 3CX."

Ward Mundy, one of the original developers of PBX in a Flash, said:
"We were at a crossroads for the next version of PBX in a Flash as to what core service to use given recent developments in the marketing of FreePBX®. 3CX for Linux provides a Unified Communications solution that is second to none and delivers ease of installation, zero admin and built-in security. Their uncomplicated licensing and free version are a near perfect fit for PBX in a Flash and our users. The PBX in a Flash Development Team unanimously chose 3CX as the best platform for the PIAF5 product release."
Availability:
PBX in a Flash 5 is available immediately and can be downloaded here
About 3CX (www.3cx.com)
3CX is a 100% channel company and is the developer of a software-based and open standards IP PBX which innovates communications and replaces proprietary PBXs. 3CX cuts telco costs and boosts company productivity and mobility.
With integrated WebRTC web conferencing, softphones for Mac and Windows and smartphone clients for Android, iOS and Windows phones, 3CX offers companies a complete Unified Communications package out of the box.
250,000 customers worldwide use 3CX including Boeing, McDonalds, Hugo Boss, Ramada Plaza Antwerp, Harley Davidson, Wilson Sporting Goods and Pepsi. Maintaining its global presence, 3CX has offices in the U.S., U.K., Germany, South Africa, Russia and Australia. Visit 3CX on Facebook, Twitter and on Google+.
* Asterisk® is a Registered Trademark of Sangoma Technologies. This trademark is not affiliated with 3CX, its products, or its websites. Sangoma Technologies is not the source of, and does not sponsor or endorse, the products/services promoted here. 3CX is not associated with or sponsored by Sangoma Technologies. All product and company names are trademarks™ or registered® trademarks of their respective holders. Use of them does not imply any affiliation with or endorsement by them.