New 3CX Assistant version 8.11114 with improved TAPI support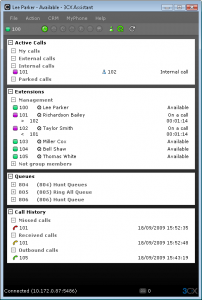 This new 3CX Assistant build has improved updating functionality.
In addition,  we have improved the TAPI driver such that it supports other applications besides Microsoft Outlook. Any TAPI aware CRM package can now launch calls, and if it supports 'inbound TAPI', a pop up will show with a customer record, based on the incoming Caller ID.
Some of this functionality might require a reinstall (as it involves the updater), but in many cases you can deploy the Assistant update via the server. (The first time the Assistant will be updated, 2 updates will occur subsequently). The below is the full change log:
Added: New TAPI driver can send caller ID information to any CRM package that supports the TAPI standard
Added: TAPI functionality in SiP Forked ID scenarios
Added: Czech translation
Added: Option to remember selection to either Auto-update or Not to update on login
Added: Virtualization for permissions in Update procedure to make the update procedure more stable in low permission windows user accounts
Added: CRM Outlook add now now compatible with limited User accounts (Standard user)
Added: Ability to update 3CX Assistant when user has limited rights (Standard user) but specifying the local administrator password.
Added: 3CX Assistant now supports switching between users on Vista and win7
Improved: 3CX TAPI driver now supports both outbound and INBOUND notification
Improved: Installation procedure for users with limited rights (Standard users) in Windows Vista and Windows 7
Improved: Faster login of 3CX Assistant on some machines
Improved: Updating of 3CX Assistant is now multi-user aware. Even machines with multiple 3CX Assistant installs can be updated as well as 3CX Assistant installs with limited rights
Fixed: Tapi is now no longer enabled in the 3CX Phone System Free edition
Fixed: Some rare scenarios would cause the Assistant to get stuck
Fixed: 3CX Phone integration remained grayed in preferences even though integration was selected
Fixed: Cancel Button in assistant's installation was not canceling the installation
Fixed: Installation issues in repair and modify
You can download the update here, or use the check for updates function in 3CX Phone System (providing you have the latest build)