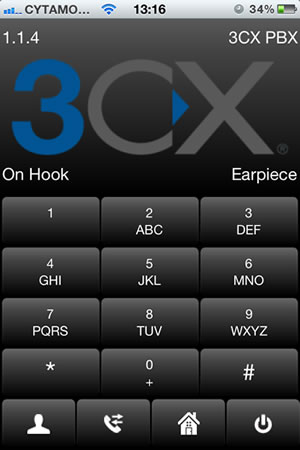 We are proud to announce the latest release of 3CXPhone for iPhone, version 1.1.4. This version contains support for iOS 5 and fixes numerous issues when connected remotely (Out of the office).
This version has been tested extensively under WiFi and 3G network connections and includes many improvements in call and audio handling.
Please show your support for 3CXPhone for iPhone by rating it within iTunes and giving it positive reviews.
3CXPhone for iPhone 1.1.4 New Features, Additions, Fixes and Improvements
New: Support for iOS 5 (Notification Center must be enabled manually)
New: Echo Cancellation
Added: Toggle for In/Out of Office settings
Added: Implemented start-up screen
Added: Improved SIP engine for better audio and call routing handling
Added: Improved GSM Call Handling
Added: Audio playback stops on incoming call and resumes after call is completed
Added: Support for non UTF-8 characters
Added: Perform re-registration when changes are detected in WiFi/3G Networks
Added: Notification when phone is unregistered
Added: Notification for missed calls
Added: Profile name will be provisioned (EXT@autoprov)
Added: Added display name in provisioning
Added: Recording exchange via iTunes
Fixed: Bug in handling of calls when PBX port is not 5060
Fixed: Bug in Un-Registration of the phone
Fixed: Keypad sounds are routed to earpiece after first call
Fixed: Ringing sounds are routed to earpiece after first call
Fixed: Bug in stun resolution causing application to hang on start-up
Fixed: Bug in provisioning when SIP port is not 5060
Fixed: Duplicate INVITE when make/hold/retrieve calls
Fixed: Proximity sensor now works only during an active call
Download 3CXPhone for iPhone 1.1.4 for free from iTunes.
Please post any questions and comments about this release to the 3CXPhone for iPhone Forums and talk to the 3CX Team on our Facebook Page.
We look forward to your feedback!