We are pleased to announce the availability of the beta of the new version 10. V10 is a major release, with an all new – Silverlight based – user portal, 3CX MyPhone. The new 3CX MyPhone replaces the 3CX Assistant and the old 3CX MyPhone portal. Everything is now grouped in one easy to use portal.
The new 3CX MyPhone is web based, but can be installed as a desktop application. In this mode it uses the browser in the background but allows the user to resize 3CX MyPhone to their preference, as well as launch it automatically. 3CX MyPhone should also run on Macs.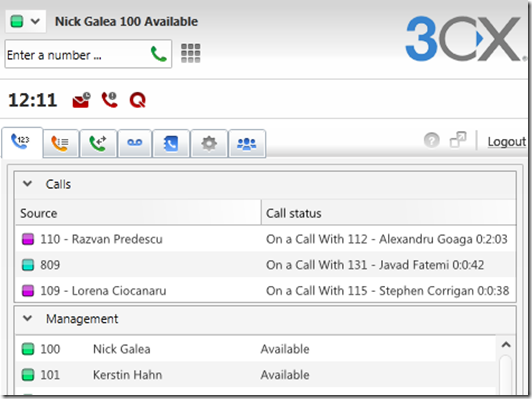 Other features
Notification to Windows Event log, 3CX Event Log and optionally by e-mail on key events
PnP support for 3CXPhone for iPhone, Android and Windows, Grandstream Executive GXP-21xx and Yealink phones. This means that you can just plug in the phone, assign extension in the management console and the phone will be automatically configured. This eliminates the need to specify the provisioning URL in the phone or via DHCP option 66.
Complete support for the new Grandstream GXP-1450, GXP 2100, GXP 2110 and GXP 2120 phones. Requires firmware v. 1.0.1.56 and up.  Note that these phones are still in BETA
Support for the Grandstream GXP 3140, GXP 3175 video phones
Support for the Yealink VP 2009 video phones
Ability to black list IPs
Ability to block extensions being registered from outside the network
You can configure that particular extensions can not be used outside of the local network
Ability to limit extensions registering externally to use tunnel
Native 64 bit version (not available in beta)
Ability to record prompts via the phone – simply click on prompt, enter extension name and record prompt
Reduced memory footprint and elimination of extra service
Specify extension group in outbound rules to easily create Class of Service rules
Commercial editions
Improved conferencing page in 3CX MyPhone allows for easier setup of conference calls
Queue tab in 3CX MyPhone which gives an overview of the status of queues
Improved BLF page – now allows provisioning of Speeddials, custom codes
Complete G722 support (Requires G722 capable phone)
Server will query phonebook to match Caller IDS to a specific name
Limitations of BETA
The beta has the call queue tab has the call center features enabled
Microsoft Outlook and CRM integration is not finished yet
The "bring window to front" feature upon receiving a call is not available
Launch of an external application upon receiving a call is not available
The hotkey feature to dial a number is not available
The ability to configure an outbound rule in 3CX MyPhone for launching of calls is not ready yet
Some Inbound and Outbound Caller ID's are interchanged
Automatic changing of status based on office hours and away times is not working yet
Chat : Blocking of chat from certain extensions and sound notifications is not available
Sorting of extensions by first/last name
Launching 3cx phone for calls is not available
Triggering a call on a desk phone using http url (http cti)
incremental parking
Company phone book entries cannot be added at the moment.
IMPORTANT
The provisioning port has changed to port 5000. This means that you must change the provisioning links for the phones to "http://IPADDRESSSERVER:5000/provisioning". You can do this via DHCP option 66 or by configuring the phones from their web interface. See the configuration guides for more information. Reboot the phones after you have made this change.
Downloads
Please post any questions about the beta to the 3CX Phone System V10 beta forum here.
Use this Beta V10 Demo Key to activate enterprise features: LFMD-4QDR-7OHP-ZZO2
We look forward to your feedback!