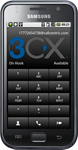 We are proud to announce a new release of 3CXPhone for Android, build 1.2.12. To improve the stability and performance of the application, various fixes and additions have been made.
This version was tested with the following Android phones:
HTC Wildfire S : Android 2.3.3
HTC Wildfire : Android 2.2
HTC Desire : Android 2.2
Samsung GT-I9100 : Android 2.3.3
Samsung GT-I9000 : Android 2.2
Sony Ericsson Xperia U20i : Android 2.1
Sony Ericsson Xperia X10i : Android 2.0
Motorola XOOM : Android 3.1
Motorola Milestone XT720 : Android 2.1.1
HTC EVO 4G : Android 2.3
Asus Transformer HC : Android 3.1
Fixes
Bug in recording
Crash when deleting last profile
Call/transfer for a server with non-standard 5060 port, including TCP mode
In UI during hold and resume call scenarios
New
Displaying of remote Caller ID on incoming calls
Server port setting backward compatibility in case server port is non 5060
Disable provisioning when phone is registered successfully
A detailed build history of 3CXPhone for Android can be found here. 3CXPhone for Android can be downloaded from the Android Marketplace.
Please post any questions and comments about this release to the 3CXPhone for Android Forums.
We look forward to hearing your feedback!