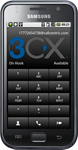 We are proud to announce the latest 3CXPhone for Android app release, build 1.2.11. This build adds support for Android versions 2.3, 3.0 and 3.1 as well as some new features. It also includes some fixes to improve the stability and performance of the application.
This version was tested with the following Android phones:
HTC Wildfire S : Android 2.3.3
HTC Wildfire : Android 2.2
HTC Desire : Android 2.2
Samsung GT-I9100 : Android 2.3.3
Samsung GT-I9000 : Android 2.2
Sony Ericsson Xperia U20i : Android 2.1
Sony Ericsson Xperia X10i : Android 2.0
Motorola XOOM : Android 3.1
Motorola Milestone XT720 : Android 2.1.1
HTC EVO 4G : Android 2.3
Asus Transformer HC : Android 3.1
Fixes
Auto-provisioning
Wrong proxy handling when using internal server
Crash of application on incoming call when call recording is enabled
Better handling of internal and external server options
New
Support for Android 2.3, 3.0 and 3.1
Authentication ID support that can be different from extension number for increased security
Caller ID (display name)
TCP functionality (Beta)
Known Issues:
Changing SIP Port to other than 5060 will not work properly at the moment
On some phones, there may be a noticeable amount of noise or echo in SpeakerPhone Mode
A detailed build history of 3CXPhone for Android can be found here.
Please post any questions about this release to the 3CXPhone for Android Forums.
We look forward for your feedback!