Version 12 SP2 is no longer available for download. To download the updated version click here.
We're really pleased to announce the Alpha Build launch of the 3CXPhone client for Mac OS which is a fully fledged SIP phone that integrates seamlessly with 3CX Phone System 12.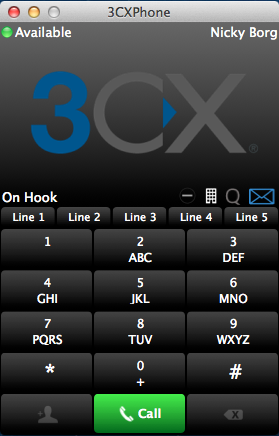 3CXPhone for Mac OS is the latest addition to the 3CXPhone client family which already includes 3CXPhone for Windows, Android and iPhone.
The new 3CXPhone Mac OS Alpha client provides features such as multiple lines, allowing you to have up to five simultaneous calls, the ability to provision an account by clicking on the attachment in the 3CX welcome email saving you time as you don't have to bother your administrator, transfers, expanded presence and many more features which are listed below.
New  3CXPhone for Mac Alpha features
G722 high-quality wideband codec
Audio-routing for sounds
Audio auto-sensing
Echo cancellation
Audio level control for microphone/voice/sounds
Auto-answer
Multi-line call handling
Added group view in Presence window
Call back  from Recordings
Chat to remote 3CX IP PBX users
Last dial history by clicking repeatedly the Line button or arrows keys.
Active Calls dialog
Queue Calls dialog
For a complete list of  features and fixes please see the change log here.
Downloads
Download the new Alpha build of the 3CXPhone client for Mac OS.
Download 3CX Phone System Version 12 Service Pack 2.
The 3CXPhone for Windows client is included in the 3CX Phone System 12 installation package and will be updated automatically.
Download 3CXCRM Update from http://downloads.3cx.com/downloads/3CXPlugins.exe.
Download 3CXPhone for Android and iPhone
Documentation and Links
Give us your feedback and comments in the 3CX Forums and on our Facebook Page.