Version 12 SP6 is no longer available for download. To download the updated version click here.
Much more than a service pack, SP 6 brings a host of new features including clientless web meetings by leveraging WebRTC technology, a new management console, support for Fanvil IP Phones, a brand new SBC functionality and an update for our Android, iPhone and Windows clients!
We have worked around the clock to bring this update to 3CX Phone System, which will revolutionize the way we communicate with our customers and colleagues!
Clientless web meetings using 3CX WebMeeting and WebRTC
3CX Webmeeting now features Google's new WebRTC technology, and makes 3CX one of the first vendors to bring a clientless web conferencing solution without the need of Java, Flash or any plug in to participate in the meeting! Launch web conferences with screen sharing and video within a few mouse clicks!
This functionality is currently in beta, and for now you can schedule meetings using 3CXPhone for Windows only. We will add the ability to schedule meetings from other 3CX clients in the next update.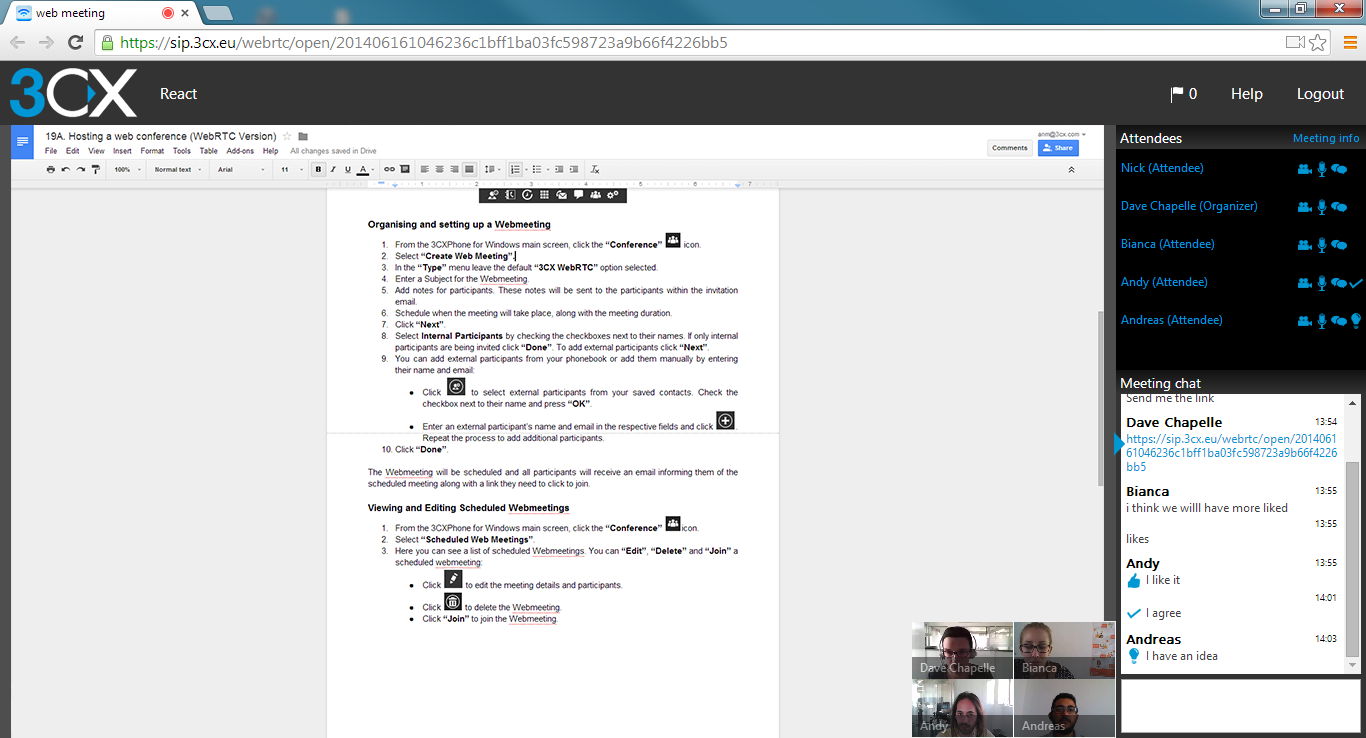 3CX Webmeeting WebRTC features include:
Co-Browsing
Screen Sharing
Ability to react / give feedback
Online chat
All without a client and all from a Google Chrome Browser!
New 3CX Phone System Server Management Console and Web Call Reporter
Complete redesign of the 3CX Phone System Management console, the Web Management Interface and the Web Call Reporter to Metro Style.
The web interface now has the ability to perform service pack updates, editing of templates and is 25% faster than the previous version.
The phones' time-zone for can be configured per extension.
Introduced new support for Yealink T48, updated firmware and templates.
Added support for a new IP Phone manufacturer, Fanvil IP Phones.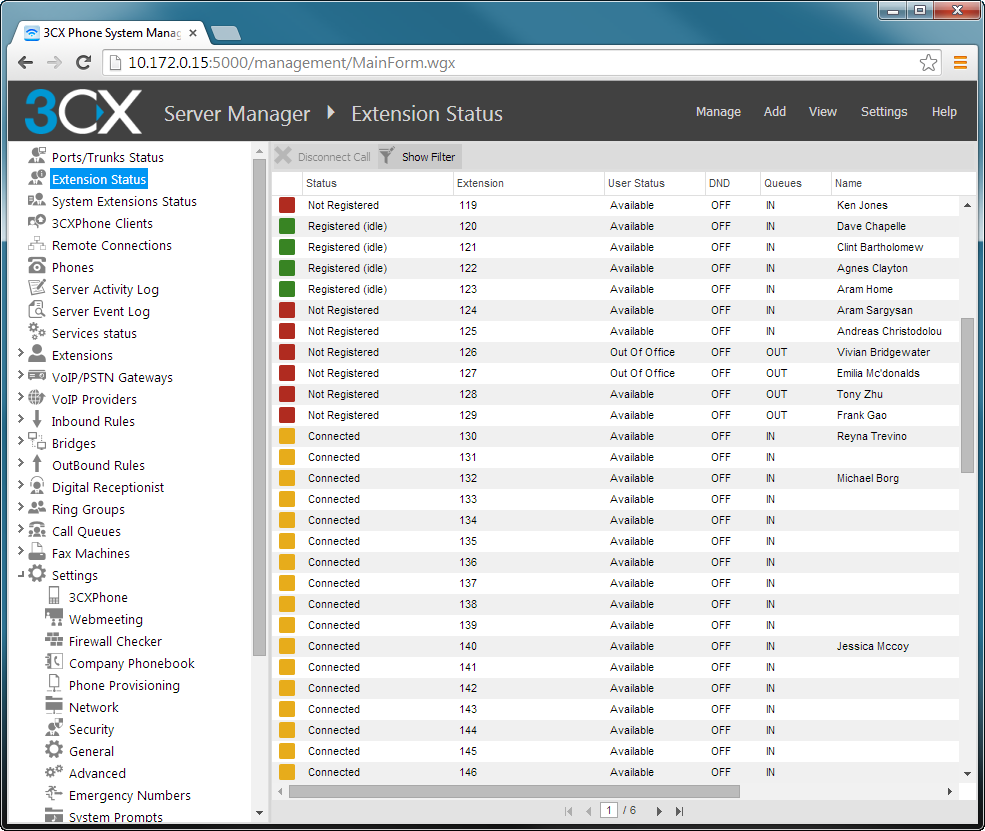 Fixes and Improvements in Version 36097.670 SP6
Ability to create and schedule 3CX WebRTC Meetings.
Ability to update service packs from the Web Management console.
Ability to modify Phone Template files from the Web Management console (works with all browsers except Internet Explorer).
Added ability to configure time-zone for an IP Phone per extension.
Connection and re-connection improvements in 3CXTunnel Protocol.
New Management console and Web Reporter design.
Yealink template update for latest firmware via 3CX firmware upgrade functionality in the Phones section.
New support for Yealink T48 and Yealink Expansion Modules (Sidecars).
New IP Phone support  for Fanvil IPPhones including firmware update, PNP, CTI, phone functionality, Phonebook, Logo, Multi-Language.
Updated Polycom Templates and support for latest firmware and bootrom.
Fix in Polycom Phonebook directory generation which was putting all personal phonebook entries in all phonebook files.
Custom profile status message can now be modified even if extension is unable to configure forwarding rules.
An extension configured as "Global Extension Manager" is no longer allowed to enable VoIP Trunk and System admin rights and cannot create a new extension with System Admin Rights.
Added Netherlands Antilles country code checks.
Call Reporter fix in report: "Call Costs by Extension Group" when group name contained special characters.
3CX Cloud Server improvements
All the fixes and improvements are included in 3CX Cloud Server also. However we have also added some changes that came in from hosters hosting 3CX Phone System for their customers:
The Activate licence page is now hidden from the management console and only visible when the System Admin logs in via the 3CX Phone System Admin Management Console.
Fixed issue of certain tenants being downgraded to free after a backup is performed.
Change Log/Build History
You can see a complete list of changes by clicking on the following links:
3CX Phone System
3CXPhone for Windows
3CX Phone for Android
3CX Phone for iOS
3CX Session Border Controller
Installing 3CX Phone System 12 Service Pack 6
Access the 3CX Management Console, click on 3CX Service Packs / Updates and download SP6.
Downloads
Download 3CX Phone System Version 12 Service Pack 6
The 3CXPhone for Windows client is included in the 3CX Phone System 12 installation package and will be updated automatically.
3CXPhone for Mac OS is also included in the 3CX Phone System 12 installation package and will be updated automatically.
Download 3CXPhone for Android and iPhone
Documentation and Links
We welcome your feedback and comments in the 3CX Forums and on our Facebook Page.