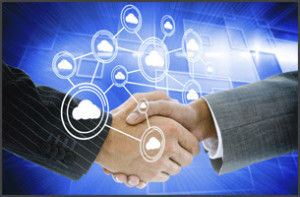 Disrupts the hosted PBX market with cost effective 3CX Phone System 14 hosting platform
LONDON UK 15 SEPTEMBER 2015 – 3CX, developer of next generation software-based PBX, 3CX Phone System for Windows, today announces the availability of 3CX as a Cloud PBX Server, designed to allow resellers to deploy 3CX easily in the cloud.
3CX as a Cloud PBX is a new deployment option offered in 3CX Phone System v14 that allows resellers to host up to 25 instances on one server. Each instance is entirely separate from the other, offering better security and reliability as well as the ability to provide a better feature set.
Channel Friendly Hosted PBX
3CX leaves resellers in complete control of their customers deployment, ensuring service quality as well as freedom of choice for hardware and SIP trunks. Unlike traditional hosted PBX's, customer accounts are not passed on to an unknown third party. 3CX as a Cloud PBX Server promises a more channel-friendly product:
Leaves reseller in complete control of customer account.
Allows reseller to choose preferred SIP trunk provider.
Ample scope for sales of add on services, hardware & integration.
Reseller can host 3CX in data centre of choice
Ability to offer on premise or hosted deployment as customer prefers.
Nick Galea, CEO said:
"With v14, 3CX offers a technically superior Virtual PBX, coupled with a channel friendly licensing program that allows resellers to get started with 3CX Hosted PBX at no cost. 3CX intends to raise the bar of hosted PBX once again."
3CX Virtual PBX – Cutting Edge Architecture
Until now Hosted PBX platforms were expensive to buy and deploy, and at the same time offered a limited feature set.
3CX removes these barriers by offering a superior "Virtual PBX" architecture. 3CX in the cloud is a fully virtualized instance, with its own set of dedicated PBX services, and completely separate data stores. Customers will have a dedicated PBX separated from and unaffected by other tenants, which results in much better security and reliability. This architecture also allows for a much richer unified communications feature set including web conferencing, instant chat, presence and more.
3CX Hosted PBX Licensing – A Game Changer
Unlike other hosting platforms, 3CX offers the hosting platform FREE of charge. The reseller can install 3CX at no charge and even host PBX instances up to 2 sim calls (approximately 5 extensions) at no extra cost.
As customers scale their install, resellers can buy 3CX licences and activate them on their Virtual PBX install. In addition to the perpetual licensing, 3CX has also introduced subscription licences for one month or one year.
Additionally, partners are offered free training, free support and are listed on the 3CX website as a 3CX Hosted PBX Provider (terms & conditions apply).
Download Links
Download 3CX Phone System v14
Try a Hosted Instance