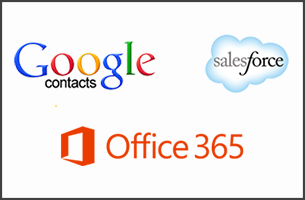 We've just released a new version of our popular 3CX Plugins. The 3CX Plugins allow you to integrate your CRM, ERP and Accounting System with 3CX Phone System for you to be able to launch calls to contacts with a single click from the CRM application. Additionally, inbound calls are automatically linked to a customer record which pops-up on the screen and all calls are logged as call records in the CRM package.
All in all, the 3CX Plugins allow your sales and customer service personnel to easily keep track of calls and ensure that your customers' records are always up to date.
This new version includes the following:
Fixed Outlook plugin in Terminal Server environments
Outlook add-in now updates the toolbar buttons in Outlook when contacts are changed
Salesforce Plugin is updated to the latest Salesforce API v35
New Lead or Contact created in Salesforce when caller ID is not matched
Exact Online plugin allows you to configure the location in order to login to the proper localized site
Download link and Documentation
Download the latest plugin here.
Read the manual here.