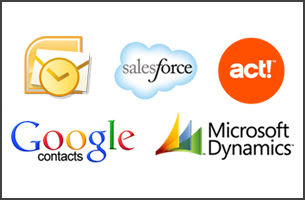 We're pleased to announce that a new version of the 3CX CRM Integration Module for 3CX Phone System Version 12. This new version adds support for Outlook 2013 and also includes a new TAPI driver that will allow you to make calls from Outlook or any compliant TAPI software to 3CXPhone for Windows.
3CX CRM Integration module allows you to connect 3CX Phone System to CRM packages such as Salesforce, Microsoft Dynamics, Google Contacts and Act!
New Features (Build 12.0.421.925)
3CX TAPI Driver installation.
Now the Microsoft Dynamics CRM plug-in allows configuring which browser to use.
Updated plug-in for Outlook 2007, 2010 and 2013. Outlook 2003 is no longer supported.
Fixes and Changes
When a lead and contact had the same first and last name, the Salesforce plug-in was storing the call information for a wrong contact.
Missing resource text for the Outlook add-in has been added.
The outbound call listener default port has been changed to a high number, to avoid conflicts with other apps.
Re-implemented the integration for call notifications with 3CX Phone System (3CX MyPhone removed).
Only one plug-in can be installed and configured.
Re-implemented the way text resources are loaded, to avoid problems in installations with .NET Language Pack installed.
Installer has been improved in different points.
The Salesforce plug-in was not saving the call activity for person accounts, this error has now been fixed.
Multiple notification problems when the call is a queue call or the extension that receives the call is registered from more than 1 device.
Download 3CX CRM Integration Module
You can download the 3CX CRM Integration Module here and trial it for 30-days. Full pricing and ordering information is available here and installation information here.
To see how beneficial it is to integrate your CRM with 3CX Phone System, take a look at the 3CX CRM Integration Module Video here.