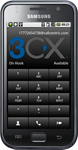 Make and receive calls via 3G and WiFi with our new 1.3.2 build of the 3CXPhone for Android app.
Please show your support for 3CXPhone for Android by rating it on the Android Market and giving it positive comments.
Take your desk phone with you by using the free 3CXPhone for Android. Make and receive calls from anywhere in the world (via 3G and WiFi) as if you are still in the office! 3CXPhone for Android uses the 3CX Tunnel, which eliminates firewall and audio issues. This Android app allows you to make calls via 3CX Phone System or another IP PBX.
This version was tested with the following Android phones:
HTC Wildfire
HTC Wildfire S
HTC Desire
HTC Desire Z
HTC EVO 4G
HTC Inspire 4G
Sony Ericsson Xperia X10i
Sony Ericsson Xperia U20i
Motorola Milestone XT720
Samsung Galaxy GT-I5800 (Works with Tunnel Only)
Samsung Galaxy GT-S5830
Samsung Galaxy GT-I9000
Samsung Galaxy S II GT-I9100
Fixes
GSM codec is set first in the list
Fixed bug of 3G not able to make outgoing calls
Ringing sound when an incoming call to the sim whilst 3CX Phone for Android is running
Audio is correctly routed from speaker to an earpiece the moment a sim call is answered
Updates
Provisioning description for Plug and Play to inform the user that the administrator needs to approve the request
Replaced External Server with "I am out of Office". When you are out of office and you want to remotely connect to your PBX, click on Menu > Profiles > Select Profile > Server Settings > and enable the option "I am Out of Office"
Please post any questions and comments about this release to the 3CXPhone for Android Forums.
We look forward to your feedback!