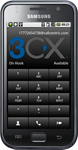 A new build of 3CXPhone for Android is now available! This app allows you to make and receive calls anywhere in the world via 3G and WiFi as if you were still in the office.
Please show your support for 3CXPhone for Android by rating it on the Android Market and giving it positive comments.
This version was tested with the following Android devices:
HTC Wilfire S: Android 2.3.3
HTC Wildfire : Android 2.2
HTC Desire : Android 2.2
Samsung GT-I9100 : Android 2.3.3
Samsung GT-I9000 : Android 2.2
Samsung Galaxy Pro GT-B7510 : Android 2.2.2
Samsung Galaxy Tab 10.1 GT-P7500 : Android 3.1
Sony Ericsson Xperia U20i: Android 2.1
Sony Ericsson Xperia X10i: Android 2.0
Motorola XOOM: Android 3.1
Motorola Milestone XT720 : Android 2.1.1
HTC EVO 4G: Android 2.3
Asus Transformer HC : Android 3.1
Updates
Improved echo cancellation
Added toggle to easily switch between in office and out of office
Changed notations for Local PBX IP and External PBX IP
Increased microphone gain for better outgoing sound volume
Please post any questions and comments about this release to the 3CXPhone for Android Forums. A detailed build history of 3CXPhone for Android can be found here.
We look forward to your feedback!