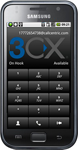 We are pleased to announce a new release of 3CXPhone for Android, version 2.0.0, which introduces several fixes and improvements.
This free app allows you to make and receive calls anywhere in the world via 3G and WiFi as if you were still in the office. It uses the 3CX Tunnel, which allows you to bypass network restrictions that telecom companies may implement.
Please show your support for 3CXPhone for Android by rating it on Google Play and giving it positive comments.
Updates
Improved: Stability when changing networks
Fixed: Crash on HTC Desire when call is made from your contacts
Fixed: 3CXPhone for Android was always in your devices' foreground, stopping the phone going to sleep
Fixed: When the phone goes to sleep, 3CXPhone for Android remains registered and continues to work in the background
Fixed: 3CXPhone for Android no longer crashes when profiles are modified or deleted
Fixed: Numerous bugs in re-registration to improve procedure
Fixed: Provisioned SIP accounts will show the account name instead of user@autoprov
Fixed: Audio routing was being routed to speaker mode on the next call. Now it resets to earpiece.
Added: Menu to change location – In Office, Out of office (3CX Tunnel Technology)
Added: 3CX Tunnel fixes to improve overall efficiency
Added: Service controller to control 3CXPhone for Android OS notifications
Added: Ability to press the menu button while in the Accounts screen and send a re-provision request – useful to provision 3CXPhone for Android to another 3CX Phone System IP PBX
Added: Dialog to call by GSM or by 3CXPhone for Android when selecting a SIM contact
This version has been tested with the following Android devices:
HTC Sense One : Android 4.0.3
HTC Wilfire S: Android 2.3.5
HTC Wildfire : Android 2.2.1
HTC Desire : Android 2.2.2
HTC EVO 4G: Android 2.3
Samsung GT-I9100 : Android 4.0.3
Samsung GT-I9100 : Android 2.3.3
Samsung GT-I9000 : Android 2.3.6
Samsung Galaxy Tab 10.1 GT-P7500 : Android 3.1
Samsung Galaxy Pro GT-B7510 : Android 2.2.2
Sony Ericsson Xperia X10i: Android 2.3.3
Sony Ericsson Xperia U20i: Android 2.1
Motorola XOOM: Android 3.1
Motorola Milestone XT720 : Android 2.1.1
Asus Transformer HC : Android 3.1
Please post any questions and comments about this release to the 3CXPhone for Android Forums. A detailed build history of 3CXPhone for Android can be found here.
We look forward to your feedback!