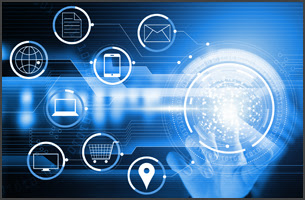 Key goal is making PBX & client installation faster and easier – both on-premise and in the cloud – realized.
With the latest update for v15.5 3CX have made deploying and managing the PBX even easier. Key improvements focused around minimizing administration as well as making the clients easier to deploy and use.
Provision Smartphones via QR code
| | |
| --- | --- |
| Installing 3CX on your Android or iPhone can now be done simply by scanning a QR code. Install the latest iOS or Android client, login to your web client and scan the QR code shown in the settings menu. Your smartphone will be automatically configured to allow you to make calls via 3CX from anywhere! Video here. | |
Hot desking
Hot desking is now integrated natively into 3CX. Phones can be configured to be ready to hot desk. When this is the case a user can login to the phone and have it instantly provisioned for his/her extension. This includes BLF buttons. Video here.
Streamlined Audio and Video conferencing Setup
| | |
| --- | --- |
| 3CX now features a new and instantly familiar scheduled conferencing interface – namely the one included in your calendar app! Scheduling an audio or video conference has never been easier. Simply select the type of conference and click to create the meeting in Google, iCalendar, Outlook or Office 365 and invite your participants from there. Or download the ICS to support almost any calendar app. | |
Server based CRM Integration
| | |
| --- | --- |
| The new CRM integration now works server side with the new web client. Now you can configure your CRM solution at server level and it will work for all of your clients. Out of the box it works with Google, Office 365, Salesforce What's more, the new integration is based on REST – and makes it easy to support almost any REST API based CRM system out there. | |
Look Ma – No mail server! 3CX Provides SMTP Account
To further ease the setup process, 3CX now provides a free SMTP account for use with 3CX Phone System. Now you no longer need to "bring your own" and spend time configuring it!
3CX Debian Linux now Based on Debian 9
The 3CX Debian ISO has been much improved. First of all it now runs the latest version of Debian, version 9, also known as "Stretch". Installation time has been cut in half and memory requirements reduced. Soon an upgrade script will be available to upgrade existing Debian 8 installations to version 9.
Installation & OS Management Features
Further improvements included in update 2:
Memory and CPU usage is shown in the services page
The PBX configuration tool has been simplified and merged with the network configuration tool.
Time zone, UTF 8 Local and NTP are now configured automatically at installation.
Let's Encrypt certificates issue process has been streamlined
Licensing error messages improved
Ability to download syslog files from the management console
Terminal window allows you to do basic OS maintenance without SSH. View video.
Virt what shows what virtualization is used
Network Quality Monitor
| | |
| --- | --- |
| The iOS and Android smartphone clients now also have a Network Quality indicator. If the network quality is low obviously this will impact conversations. | |
Receptionist Features
To make the receptionist's life easier, we have added a few features specifically for them, notably:
Ability to set a status for a user
Ability to set/unset a user to DND
Ability to clear and assign an extension to another user
And that's Update 2 for you. We look forward to receiving your feedback on our forum.
View the complete change log here.
How to update:
If you are on V15.5 or 15.5 SP1, you go to the updates section on the dashboard of the management console where you will see a release update 15.5 SP2 BETA. Click on the update and 15.5 SP2 Beta will be installed. You can even try it out using our PBX Express tool and have a new installation up and running in minutes.
If you want to download a new installation you can download the Linux version.
Linux: Follow this guide