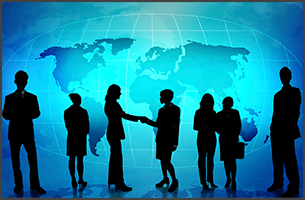 Web conferences are bringing people together, engaging businesses with their customers in new and innovative ways. They allow businesses to build strong relationships with their customers, partners and colleagues, as well as reduce time spent travelling and travel expenses.
3CX WebMeeting is the tool your business needs to create high definition web conferences easily and cost effectively, whilst continuing to see an increase in productivity and sales.
See Your Business Increase its Productivity and Sales
3CX WebMeeting brings the meeting to you, allowing you to spend the time you saved from travelling more productively. Travel the world meeting potential customers whilst never leaving your seat. Share your new sales presentation with a customer in Melbourne at 9am and with your partner in Shanghai at 12pm. Brief and share your experiences with your colleagues in the Berlin, London and Rome offices at 3pm!
Save More and Reduce Travel Expenses
By using 3CX WebMeeting's powerful web conferencing solution, you reduce travel costs. Fill in the countless hours spent on planes and trains to connect with your customers. Foster stronger, longer lasting relationships with your customers by communicating face-to-face with them in a virtual environment.
Resolve customers queries and increase their loyalty in your company by troubleshooting their technical issues by remotely taking over their PC and seeing what they see. This drastically reduces transportation costs associated with in-person service calls, plus it allows you to resolve any customer issues extremely quickly.
Enhancing Communication & Build Stronger Relationships with Your Colleagues
Web conferences replicate nearly all the features of communication, bringing you closer to your customers in more personal and impactful ways as you no longer need to guess how your customers are facially reacting to your questions or statements. The added video to web conferences allows you to see their facial cues as well as hear their tone of voice.
Increase the unity of your employees that are located in various office locations with 3CX WebMeeting by putting a face to your colleague's or customer's voice. Web conferences allow you to create an effective team by better connecting all your employees, no matter where they are geographically.
Try out 3CX WebMeeting today! Download 3CX Phone System and enable 3CX WebMeeting for free!