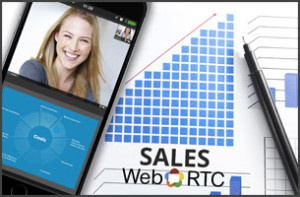 Ever since ecommerce first took off there's been a litany of complaints from consumers who 'don't want to buy what they can't see.'
WebRTC is changing all that. Now, when customers see products they might like, they just click on the call link and they can view the product on video and talk to a dedicated salesperson about it. There is even a startup called Goinstore that specializes in live video direct from retail outlets – click on the WebRTC link, and you might as well be at the Mall.
Video sells – the data is there to prove it. More than 85 percent of consumers online are more likely to buy in a video chat, according to data from customericare.com. More than a third of customers prefer to communicate with vendors via video. What's more, only 10 percent of clients remember a product they saw on the Web after 3 days; 95 percent remember something they wanted to buy when they had a video chat about it.
So it's not surprising that, by 2018, one-fifth of the largest global businesses will introduce video-based chat for customer interactions, according to research from Gartner Group.
If you expect to sell on the Web, you'd be wise to get a WebRTC connection working.
At 3CX, WebRTC click-to-call (Web DIDs) are integrated into 3CX Phone System. The IP PBΧ supports softphones with individual portable extensions for each user, and every softphone includes a WebRTC link. Click on the link to call; elevate the call to video with another click. Put the link on a landing page so that customers can reach the right person at your business with a click.
And start ringing up sales.