In the unusual event where upon joining a 3CX WebMeeting your video is not working please follow the below procedure in order to ensure your video is up and running again in no time.
If your video is not working the below message will appear.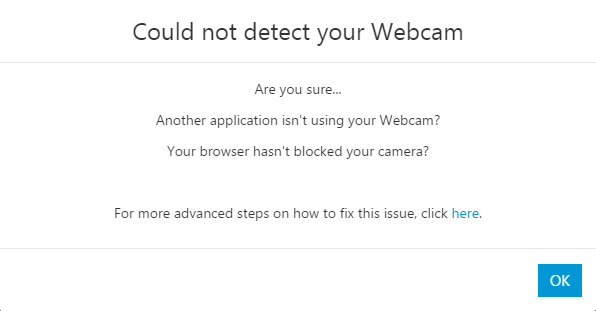 Another quick way to troubleshoot if your webcam is not working is to look at the preview on the bottom right of the screen. If you do not see your preview image there, then there is a problem with the webcam and you need to investigate. Also note that the camera icon is also gray.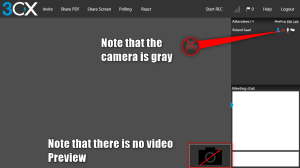 The most common reason that causes your video to stop working is if another application is using your webcam. One way of quickly resolving this is by closing all video applications, and joining the meeting again.
If that's not the issue then your browser may be blocking your webcam. Let's have a look how we can fix this on Chrome.
Unblock Video / Webcam in Google Chrome
If Chrome is blocking your webcam, you should notice a cross on the camera symbol at the top right corner of the address bar.

In the top-right corner of Chrome, click the Chrome menu .
Select Settings.
Scroll down to Show advanced settings.
Go to Privacy and click on Content Settings.
Inside Camera exceptions, ensure that the hostname of the meeting that had no video is not blocked. If you see the meeting hostname blocked, press the X to delete the entry. Click Done.
Relaunch Chrome and go back to the invitation email. Click the join button to join the meeting again. Make sure that you "Allow" your camera to be used.