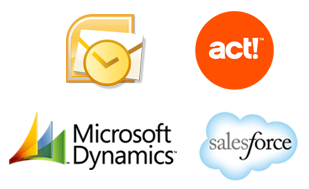 3CX Phone System Pro customers can integrate 3CX Phone System and customer relationship management (CRM) systems to achieve improved productivity and to offer an enhanced customer experience. With customer service being a key differentiator in today's competitive global market, the 3CX CRM Module offers great returns for all sizes of business by enabling them to be truly customer focussed and thereby increase their sales.
3CX CRM Module provides companies with straightforward out of the box integration with a number of different applications, including: Salesforce, Microsoft Dynamics CRM, Act! and Google Contacts.
3CX CRM Integration- Enabling Personalised Customer Service
With voice calls being a key channel of interaction between a business and its customers, it is important that employees offer the best possible customer experience when on the phone. Successful VoIP-CRM integration allows businesses to connect more effectively with their customers by keeping track of interactions.
For instance, when using 3CX CRM Module with one of the abovementioned applications, the name and details of a customer will immediately pop-up on the screen when they call. Employees answering the phone can then provide tailored advice and a personalised customer service based on previous conversations. When a company's CRM systems are not linked to their phone system, it is easy to lose track of these conversations, especially in a call centre where multiple people may answer the main phone number. By using 3CX CRM Module, call history can be logged within the CRM system to ensure a personalised customer service.
Boosting Sales with 3CX CRM Integration
Using 3CX Phone System, businesses can integrate their phone system with a number of CRM sales programmes, such as Salesforce or Microsoft Dynamics, enabling companies to track their sales statistics and improve productivity. By integrating 3CX Phone System with such programmes, it is possible for sales managers to monitor phone calls to ensure that customers and new leads are being dealt with in a timely manner. In addition, by looking at the call logs, sales managers can understand where they can improve their strategy and whether they need to invest in additional training for their staff. Using 3CX CRM Module, managers can also track the productivity and effectiveness of remote workers by monitoring their call logs to ensure that business targets are met. VoIP-CRM integration therefore offers great benefits for businesses which are aiming to improve their sales figures, by expanding their customer base and nurturing their existing customer relationships.
For further details of 3CX CRM Integration Module, please click the link.
The following CRM programmes can be configured with 3CX Phone System Pro Edition:
Google Contacts
Microsoft Dynamics
Microsoft Outlook
Salesforce