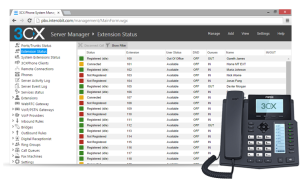 The successful interop pairs 3CX's best of breed Windows-based IP PBX with Fanvil X3 and X5 IP Phones for a fully interoperable end to end Business Telephony Solution.
LONDON, UK and BAO'AN SHENZHEN, CHINA, 10 JUNE , 2015 – 3CX, developer of the next generation software PBX 3CX Phone System and Fanvil announce the full interoperability between 3CX Phone System and Fanvil X3 and X5 IP Phones. 3CX Phone System users can now enjoy the "Plug and Play" functionality of 3CX Phone System with the Fanvil X-series IP Phones.
Nick Galea, CEO, 3CX said:
"Fanvil IP Phones are affordable, reliable and easy to use and allow our resellers to lower the cost of the 3CX solution for customers. 3CX resellers can now compete with low cost hardware on price, whilst still offering customers a high quality unified communications solution."

James Pao, Product Director, Fanvil said:
"Customers not only need hardware, but a complete solution.The X Series IP Phones are completely interoperable with 3CX Phone System to deliver the unique paperless programmable DSS with One-Touch operation, and Mobility Office Station Profiles which can be shared among multiple users on the same desk phone. These high efficiency features bring customers the best communication experience possible and with them they achieve reduce enterprise costs."
Fanvil IP Phones and 3CX Phone System – Guaranteed Interop
Advanced integration and full interoperability between 3CX Phone System and Fanvil IP Phones are guaranteed with this partnership. Before any new firmware is made available for the Fanvil IP Phones, both 3CX and Fanvil will test the firmware on the latest version of 3CX Phone System to ensure that the IP Phones are fully interoperable and automatically configured with 3CX Phone System. 3CX and Fanvil also provide guaranteed response times for any interop issues that may occur. The Fanvil X-series interop is an addition to the list of supported Fanvil IP Phones, up until now the F and C series were fully interoperable with 3CX Phone System.
About 3CX (www.3cx.com)
3CX is a 100% channel company and is the developer of a software-based and open standards IP PBX which innovates communications and replaces proprietary PBXs. 3CX cuts telco costs and boosts company productivity and mobility.
With integrated WebRTC web conferencing, softphones for Mac and Windows and smartphone clients for Android, iOS and Windows phones, 3CX offers companies a complete Unified Communications package out of the box.
250,000 customers worldwide use 3CX including Boeing, McDonalds, Hugo Boss, Ramada Plaza Antwerp, Harley Davidson, Wilson Sporting Goods and Pepsi. Maintaining its global presence, 3CX has offices in the U.S., U.K., Germany, South Africa, Russia and Australia. Visit 3CX on Facebook, Twitter and on Google+.
About Fanvil (www.fanvil.com)
Fanvil, an established VoIP Desktop Phone developer and manufacturer from China recognized by the global demand for VoIP based telecommunication solutions and devices for small and medium sized business, as well as large mission-critical enterprise environments, has grown into one of the Largest and most popularized used VoIP phone around the world. Fanvil is set to become a leading IP voice and video terminal manufacturer by providing the market with cost efficient and innovative IP voice and video products. Fanvil VoIP devices are always taking the advantage of clear timbre, rich function, excellent quality, perfect service and competitive price.