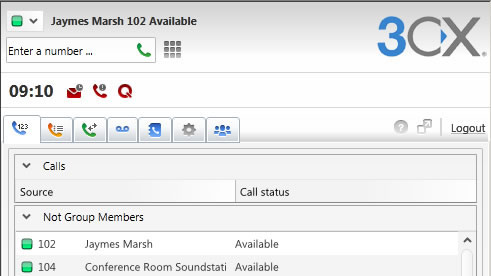 We have a new build of 3CX Phone System V10 – Beta 2! This build fixes many issues and also adds some features that were missing in BETA 1, most notably Microsoft Outlook integration, Hotkey dialing and the ability to install 3CX MyPhone locally. For a list of new features in 3CX Phone System v10, check out the original beta post.
Features Added
Desktop components installation for 3CX MyPhone. This adds Microsoft Outlook integration, Hotkey dialing and more
Whisper and Listen in (Call Center Edition features)
Added Plug and Play support for Grandstream GXP 1450, GXP 2110, GXP 2120 and GXP2100 IP phones
With the latest firmware Grandstream GXP 1450, GXP 2110, GXP 2120 and GXP2100 IP phones are now preferred phones!
Added personalized Outbound Rules with different prefixes and priorities for calls triggered from 3CX MyPhone and configurable per extension
Ability to hide forwarding rules tab in 3CX MyPhone per Extension
Ability to hide Extension details tab per Extension
Queue statistics agent log in and log out time is now displayed
Phone book sorting by first name
Queue statistics are blocked if you do not have the Call Center module
Personal and company phonebook
Show Message Waiting icon when there is voice mail
Start 3CX MyPhone automatically when windows starts
No answer time is 20 seconds by default as opposed to 60
Disabled remote extensions from registering to the lan by default
Ability to specify a prefix for the Call back feature
Bugs Fixed
Intercom, Listen in or whisper actions could cause no audio.
Listen and whisper actions could be greyed out under certain conditions
When calling some external numbers, recording would not work when triggered via MyPhone
Broken CID in Myphone when divert is made
Bug in install locally with notification update message garbled
Bug in conference display when a conference is created in the system manually – it remains a stuck call to 700
Display of a parked call – Call would show with *0 "
Bug in barged in calls updating in MyPhone – A barged in call steals the update and when it disconnects it appears barged in.
Sometimes calls switch source and destination in MyPhone
Bug in time format 12/24 hours
Rebound feature would result in no audio
Outbound rules in MyPhone would not work reliably
Phonebook matching
Queue stability has been improved
Fix in import extensions function and forwarding rules
Known Issues
Bug in remember me option caused by corrupted cache – browser mode might not remember credentials. In these cases, clear the browser or silverlight cache
Chat blocking section might not block all extensions
Disable Chat sound notification will not disable sound completely – outgoing chats still have sound. Sound file needs improvement
Bring to front will only work if steal focus is ALSO enabled. Otherwise it will not always work reliably
Register application to start up with windows automatically – does not always work
If Outlook 2010 is installed in 32 bit mode on 64 bit operating systems, the outlook popup contact records will not work. For this to work Outlook bit version must be equal to architecture
Hotkey may not always be detected
Downloading of 3CXMyPhoneDesktopComponents.exe might need to be copied to the desktop and run from there. Limited users without UAC need to use "Run As Administrator". It is important that all 3CXMyPhone browsers and local applications are closed before.
IMPORTANT
The provisioning port has changed to port 5000. This means that you must change the provisioning links for the phones to "http://IPADDRESSSERVER:5000/provisioning". You can do this via DHCP option 66 or by configuring the phones from their web interface. See the configuration guides for more information. Reboot the phones after you have made this change.
Downloads
Please post any questions about the beta to the 3CX Phone System V10 beta forum here.
Use this Beta V10 Demo Key to activate enterprise features: LFMD-4QDR-7OHP-ZZO2
We look forward to your feedback!