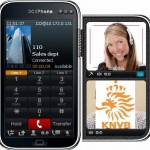 The release candidate for 3CX Phone System v9 (9.13373) is now available for download. A separate 3CX Assistant download is no longer required, read on….
We have added a great new feature making it much easier to deploy 3CX Assistant and 3CX Phone to extension users. The 3CX Assistant and 3CX Phone installation is now integrated into the main 3CX Phone System build and a link to it is automatically sent out to Extension users in their Welcome email. They just need to click on the link and confirm installation. Set-up will then be started and 3CX Assistant will be automatically configured with the correct extension settings.
If a new 3CX Assistant installer is available, it can be downloaded to the 3CX Phone System Server and it will be automatically used from then onwards for all new installations. In addition updates for existing 3CX Assistant installations can be downloaded to the 3CX Phone System server and will be automatically deployed (without requiring a re-install). So Deploying and managing of 3CX Assistant is now virtually administration free! To see a list of all new features in 3CX Phone System v9 read this post.
Changes since Beta 2 of 3CX Phone System 9
Fixed: Issue in Audio quality in Tunnel connections
Fixed: music on hold locked by another process
Fixed: incorrect BLF after attended transfer
Fixed: Queue manager call polling
Fixed: Stop recording on call termination
Fixed: Logging page in different languages
Fixed: Forward to external numbers in queues in AWAY and OUT OF OFFICE Profiles
Fixed: Issues in Dialog Info support on Phones display
Fixed: Hard coding of sip port in Patton templates
Fixed: Fixed issue when changing queue number on the fly or during queue operations
Fixed: Call transfer failed notification played when a transfer to a destination fails
Fixed: Call reporter Numerous fixes in SQL queries and display
Fixed: Call Reporter Call History CDR issue
Fixed: Backup and restore conversion of 3CX Tunnel Configurations
Improved: Optimizations to G711 codec
Improved: Call termination handling
Improved: Early Media Support
Added: Provisioning phone templates will not change when status profiles or forwarding rules are updated.
Added: Backup and restore of VAD projects
Added: If Voip Provider or Bridge is unregistered color changes to red
Added: Check for updates on log in – update node changes to red when a new update is detected in main component nodes
Added: Beronet support for quick configuration of devide and access to beronet's internal 3CX Config Page
Added: New node in Updates section for complete call assistant packages for distribution to LAN users
Added: first name and last name to blf keys for snom + idle screen display
Added: Updated Beronet berofix templates
Added: Better Sip support for 488 and 606 response codes
Added: Language translations in 3CX Phone System and 3CX Assistant – German, French, Greek, Russian, Italian, Spanish
Added: RPID information to version 9 generic templates for greater 3rd party VoIP Provider support
3CX Phone
Added: jpeg encoder to reduce size of recording/snapshots taken for compression
Added: multiple video resolutions supported SQCIF, QCIF, CIF, CIF4
Added: video resolutions changing order in SDP negotiation
Added: auto detects incoming H263 video format
Added: support for displaying video upload/download bandwidth
Added: STUN support for video transmission BETA
You can download 3CXPhone for Windows separately
3CX Assistant
New: 1 click Provisioning method for both 3CX Assistant and 3CX Phone integration (link in welcome email)
Added: Intercom prefix to Pickup operations
Fixed: Issues in Updating of activity in 3CX Assistant
You can download 3CX Assistant separately
As always we look forward to your feedback!