We'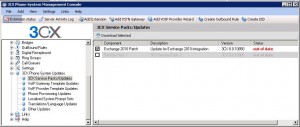 ve released a new build of 3CX Phone System v8 – and it has a few big improvements. Probably the most notable is the new server update functionality, which allows you to download 3CX Phone System updates WITHOUT having to re-install the software. Once a new service pack or server update comes available, it is available for you to download. The services will be stopped and the update applied.
Further improved is the 3CX Assistant update functionality. You can download an update of the 3CX Assistant from the 3CX Console, which will download it to the 3CX Phone System server. From there, 3CX Assistant installs will auto update 'themselves'. 3CX Assistant installs will check for new updates at start up – so in most cases once a day. In fact this build comes with an update to 3CX Assistant, which will be deployed automatically. We will also post a minor update to the 3CX Assistant soon so you can download the update and see how its deployment works. Both the server and the client update functionality will save administrators a great deal of time!
We also took the opportunity to revamp the updates pages – downloading updates to voip provider, gateway, ip phone provisioning templates and system prompts & languages is now much cleaner and faster.
Another important improvement is an the configuration of the Ultidev Cassini web server. Users who use this web server should see a performance improvement.
We have also added a provisioning template for Yealink phones. See new configuration guides for manual configuration and for configuration via provisioning.
And we added support for the UK VoIP provider Spitfire.
The full list of fixes and changes can be found here.