We're pleased to announce the latest version of the 3CXPhone for iPhone app is now available to download from the Apple App Store!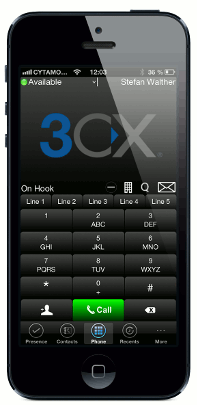 This new version of 3CXPhone for iPhone now supports scheduled conferences, which allow you to schedule conference calls with your colleagues or clients in seconds! All participants receive an email that informs them what number and PIN to use to access that conference. When it's time for the conference to begin, participants are automatically called into the conference (local extensions only). 3CXPhone for iPhone version 12.0.5  also provides multilingual support, with the language being automatically detected based on the iOS regional settings.
New Features and Changes for 3CXPhone for iPhone Client
New Features
Added ability to transfer a call via the presence dialog. This allows you to know the status of the extension before transferring the call.

Added ability to quickly schedule conferences.

Added localization for German, Italian, French, Russian, Greece, Bulgarian, Danish, Spanish, Dutch.
Fixes
Minor fixes and improvements, giving you a greater user experience.
To take advantage of the great new features of 3CXPhone for iPhone, you'll need to have the latest 3CX Phone System V12 Release Candidate installed.
Download 3CXPhone for iPhone!
Documentation and Links