We're thrilled to announce the release of the new 3CXPhone for Android app! The 3CXPhone for Android app is a big part of 3CX Phone System 12…. and took a lot of work :-)
3CXPhone for Android supports PUSH Technology, which means 3CX can 'wake up' your Android device when a new VoIP call comes in. This saves significant battery life as you don't need to keep the app active. 3CX is the first PBX to provide PUSH, delivering you true mobility! 3CXPhone for Android delivers many unified communications features: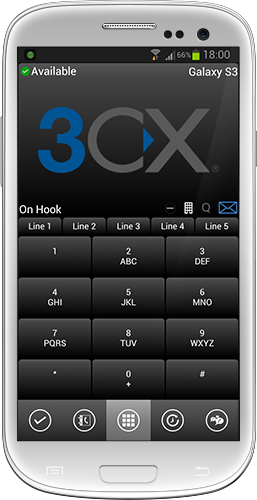 Make and receive VoIP calls via 3CX Phone System 12 from anywhere

Setup conference calls easily

See the presence of your colleagues
Multi Line – manage multiple calls at the same time
Corporate instant messaging
Ability to configure call forwarding from your smartphone
Ability to quickly set your presence status, e.g. available, away, out of the office, etc.
Ability to check voice mail and recordings visually
Centralized call history
Deploy via email in seconds
Blind and attended call transfers
Place calls on hold
Integrated 3CX Tunnel bypasses remote firewall or provider issues
To take advantage of the great new features of 3CXPhone for Android, you'll need to have the latest version of 3CX Phone System 12 installed. Update to the latest version by logging in to the 3CX Windows Management Console from Start > All Programs > 3CX Phone System > Windows Management Console and navigate to the 3CX Phone System Updates node > 3CX Service Packs / Updates.
Download 3CXPhone for Android!
Documentation and Links