The v15 Release Candidate is Available! We're only a few days away from the launch of version 15, don't forget to attend the presentation and live Q&A, with the 3CX team, on our YouTube channel on the 6th of July – make sure you save the date.
We've added some new exciting themes to our Windows client, including the ability to add a custom background! Additionally, there's a black, white and grey theme. We've also made some major improvements when setting up audio and video conferences for easier and faster setup.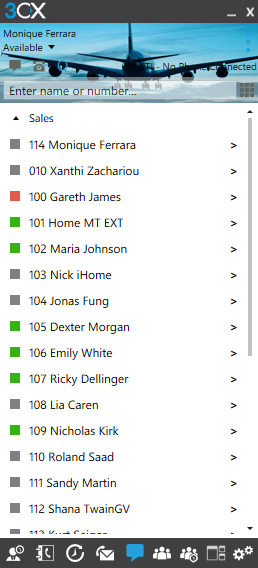 Main Fixes
Added 10 new domain suffixes for: 3cx.co.uk, 3cx.de, 3cx.nl, 3cx.fr, 3cx.es, 3cx.it, 3cx.ru, 3cx.in, 3cx.com.au and 3cx.co.nz
Improvements to the Management Console pages fixing numerous bugs
Finalized 3CX client for Windows
Chat improvements
Still pending and not included in this RC:
Easy configuration of FXS Gateways
Easy configuration of DECT base stations & handsets
Extension level rights (Pending group manager rights)
Bulk extension editing
Ability to run VAD scripts
New SBC build to follow shortly
iOS 3CX WebMeeting app
3CX Mac and Windows clients will be automatically updated to work with v15. V14 Android and iOS clients work with v15.
Download links and Documentation:
Download 3CX v15 from this form – be sure to enter your details correctly, you will be sent a licence key that is required for setup.
IMPORTANT: Partners & Customers that already have commercial/nfr licence keys must use their existing key during installation. You can evaluate with a another key, but be sure to leave your subdomain of choice free so it will be linked to the key that you will be using. Do not link your subdomain of choice to a free key (unless you intend to use that).
NOTE: If you have already installed the BETA you will need to uninstall and re-install this RC.
View the complete change log for 3CX Phone System.
View the 3CX client for Windows change log.
Admin Manual:
We're look forward to receiving your feedback! Please post on our forum or as a comment below.