3CX WebMeeting, the video and web conferencing service bundled with 3CX Phone System, has gotten a significant upgrade in v14 SP1. First of all, you now get 25 participants free of charge as long as you activate your account before 30th December 2015 and have valid maintenance. Secondly, the MCU conferencing server network has been expanded globally and video quality  drastically improved. You can now select the preferred location of your MCU conferencing servers.
New features for the user
The best features though have been given to the users:
Easy Ad Hoc creation of web meetings – Just click on the Icon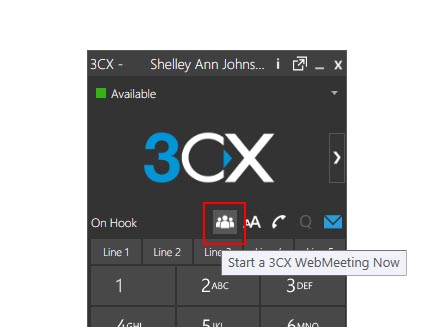 Presentations and documents can be uploaded on the fly in PDF format
Use a whiteboard marker to point to sections of text
Record Web conferences and download them in MP4 format afterwards.
Deploying 3CX WebMeeting
It's easy, follow these steps:
In the management console, go to the 3CX Webmeeting node
Select Free 25 participants and click "Activate"
Click on Account Management and select your region, the web meeting location closest to you, and preferred URL. Click the Create button.
Users will be automatically added and will immediately see the 3CX WebMeeting Ad Hoc icon on the main screen of their 3CXPhone.
Get started with 3CX WebMeeting today – activate your 3CX WebMeeting accounts. No software to install, no plugins for attendees!
See the user manual, specifically section "Organizing Video Conferences"