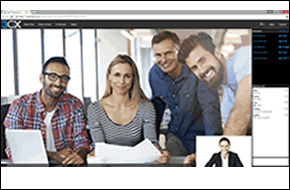 Tired of spending a lot of money and time on outdated video conferencing solutions such as GoToMeeting? Move to 3CX WebMeeting, a clientless, modern web conferencing platform that will transform the way your business communicates with its customers and colleagues!
Unlike GoToMeeting, 3CX WebMeeting is clientless, by leveraging WebRTC, meaning you can hop into a video conference or online classroom with just a few mouse clicks! Or, if you prefer, you can waste your time downloading GoToMeeting's cumbersome and clunky meeting software before you can meet and greet your customers. The choice is yours.
Communicate Faster than GoToMeeting with 3CX WebMeeting
If you are on a call with a customer and you need to demo your new product, share your screen or access your customer's computer, GoToMeeting can't let you assist your customer quickly. 3CX WebMeeting on the other hand is built from the ground up to ensure you can serve your customers quickly and in real-time.
3CX WebMeeting: Modern, Intuitive, Clientless Web Conferencing Solution
Take your communications with your customers and colleagues to the next level by leveraging 3CX WebMeeting's modern, intuitive features. Share your screen, files and even take over a customer's PC and resolve any issues they may have.
3CX WebMeeting leverages WebRTC technology, meaning your participants can effortlessly join your meeting, unlike GoToMeeting, where they would need to install client software and sometimes be asked upgrade their Java or Flash too!
Try out 3CX WebMeeting today! Download 3CX Phone System and enable 3CX WebMeeting for FREE.