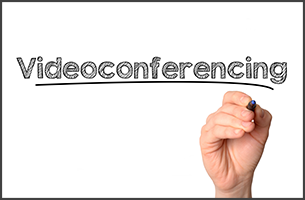 Video conferencing is key to keeping businesses connected as the time we have to get things done is ever decreasing whilst our travel budgets continue to tighten. Using 3CX WebMeeting's hosted video conferencing solution enhances your communications with customers, colleagues and partners as well as improves your customer services whilst boosting your sales and staff productivity.
Why Choose a Hosted Video Conferencing Solution?
3CX WebMeeting allows you to get on with arranging and carrying out your web conferences, online classrooms or interactive collaboration sessions without having to spend time installing software, making sure it's configured and properly maintained.
3CX WebMeeting's powerful hosted video conferencing service allows you to schedule your online meetings, share PowerPoint presentations and other files with your customers and colleagues whilst delivering a solid sales pitch in high definition video and audio without having to worry about time intensive software updates. And as 3CX WebMeeting is a hosted video conferencing solution, it's clientless too, unlike the WebEx and GoToMeeting solutions which are cumbersome and clunky, meaning you need to download a host of 3rd party applications before you can even think about joining a web conference.
Increase Productivity and Sales & Slash Travel Expenses
3CX WebMeeting gives you the freedom to liaise with a multitude of customers and leads – whether they're in Sydney, Hong Kong, London or Alaska – all from the comfort of your own desk. And as there's no travelling involved, you can arrange far more sales meetings, which lead to more sales opportunities. The valuable time you spend travelling can be used to connect with your customers, allowing you to communicate face-to-face with them and build longer lasting relationships.
Key Video Conferencing Technology Features:
Easy to use hosted video conferencing solution
Document & PowerPoint Sharing
Advanced online classroom features
Text Chat & File Transfer