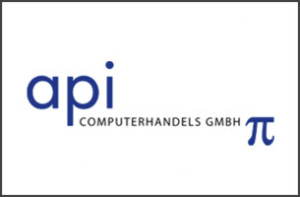 LONDON, UK & AACHEN, GERMANY, 29 MARCH 2016 – 3CX, developer of the next-generation software-based PBX 3CX Phone System, is excited to announce its latest partnership in the German market with api Computerhandels GmbH.
api has a portfolio of greater than 48,000 products and collaborates with nearly 400 manufacturers to provide IT solutions that are customized, cost-effective and easily integrated. Pair these benefits with api's 22 years of experience and you see why this partnership is optimal for both companies.
3CX's innovative software-based PBX is easily installed, increases productivity and drastically cuts telephone costs, making it an ideal solution for any business. What's more, 3CX also provides top-notch customer support, which is yet another reason why api Computerhandels GmbH added 3CX to its growing catalog of offerings.
3CX is thrilled to bring this new partner on board as a new distributor in Germany, where its industry-leading phone system will be able to benefit the businesses of one of the world's largest economies.
Marcus Kogel, Sales Manager 3CX said:
"Germany is a huge market and our aim is to continue to grow in Germany with the rapid pace that we are accustomed to. This is made possible with strong distribution partners like api Computerhandels GmbH. With its 22 years of experience in the market we can rest assured that their knowledge pool will be passed on to 3CX Partners in Germany."

Frank Fritsche, api Computerhandels GmbH sales director, said:
"The distribution contract with 3CX gives us access to a UC solution with an excellent pricing for the SMB market which suits the requirements of our partners well. In combination with a range of several services and trainings, we put them in the position to generate a successful 3CX business".
About 3CX (www.3cx.com)
3CX is a 100% channel company and is the developer of a software-based and open standards IP PBX which innovates communications and replaces proprietary PBXs. 3CX cuts telco costs and boosts company productivity and mobility.
With integrated WebRTC web conferencing, softphones for Mac and Windows and smartphone clients for Android, iOS and Windows phones, 3CX offers companies a complete Unified Communications package out of the box.
250,000 customers worldwide use 3CX including Boeing, McDonalds, Hugo Boss, Ramada Plaza Antwerp, Harley Davidson, Wilson Sporting Goods and Pepsi. Maintaining its global presence, 3CX has offices in the U.S., U.K., Germany, South Africa, Russia and Australia. Visit 3CX on Facebook, Twitter and on Google+.
About api Computerhandels GmbH (www.api.de)
api Computerhandels GmbH is—due to steady growth, intensive manufacturer relations and reliable, flexible customer services—a strong partner in IT distribution that focuses on resellers as well as wholesale customers and industrial companies.
api now serves more than 10,000 resellers and wholesale customers and has a portfolio of approximately 48,000 articles from well-known manufacturers. With personal contacts at various national and international locations, api can implement customer requirements flexibly and competently. And with next-day delivery service, api can deliver all items quickly.