We're pleased to announce that the latest version of the 3CXPhone for iPhone app is now available to download from the Apple App Store!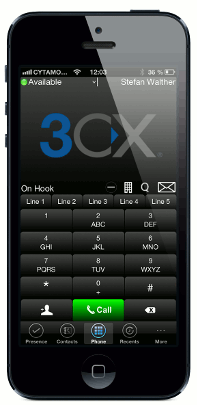 This version supports the 3CX VoIP Tunnel app that eliminates any issues related to registration or connection problems. 3CXPhone for iPhone version 12.0.4 allows you to see the presence of your colleagues, and also their forwarding destination, meaning that you can now see where your call will be forwarded to if your colleague can't take the call.
New Features and Changes for 3CXPhone for iPhone Client
New Features
Ability to see forwarding destination in presence
Support the 3CX VoIP Tunnel
Fixes
Fixed some issues in call transfer
Fixed some issues in voice mail
To take advantage of the great new features of 3CXPhone for iPhone, you'll need to have the latest version of 3CX Phone System 12 installed. Update to the latest version by logging in to the 3CX Windows Management Console from Start > All Programs > 3CX Phone System > Windows Management Console and navigate to the 3CX Phone System Updates node > 3CX Service Packs / Updates.
Download 3CXPhone for iPhone!
Documentation and Links