Version 12 BETA is no longer available for download. To download the updated version click here.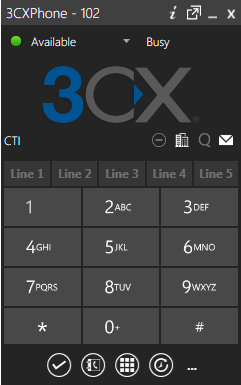 We're pleased to announce the release of the latest Beta build of 3CX Phone System 12 which includes full screen presence with Active Calls within the 3CXPhone client for Windows.
The Active Calls section within the Presence Information window is a great feature as it allows group managers and users to view the presence of their colleagues whilst being able to manage calls. Group managers can perform a series of tasks such as pick up, divert and transfer calls with a few mouse clicks.
The Presence Information screen can be customised by dragging and dropping groups or the Active Calls section, and even move the elements onto your desktop to suit your needs.
3CXPhone for Windows can limit what call information is shown to the managers and users based on their extension groups. Extension group rights are used to determine what information is shown and to whom. For example, a manager in extension group A can manage calls of that group. The same manager might be a user in group B, meaning that he/she won't have the same rights as they do in group A. Managers can see call details of any member of his/her group, independent of the call destination or origin.


New Features and Fixes for 3CX Phone System 12
New Features
Complete redesign of User Groups and rights
Ability to add users to multiple groups
Added Rights per extension, which makes it much easier for the user to see the rights assigned to each extension
Barge in now incorporates Listen and Whisper
All 3CX web-based applications are now accessible by using a new password that can be configured for each extension
All new extensions are placed within the Default Group
3CX HTTP API %pin% variable now refers to the extension SIP Password and not the PIN, making it more secure
Added administrator rights to Call reporter Access allowing the user to configure reports and delete call records
Added CRM and Outlook Integration – Call contact via 3CX is working in Make call or CTI Mode
Ring group information is now displayed on incoming calls
NOTE: Users updating via the service pack need to go in each group and press APPLY to save the new Group changes
Fixes
Improved Presence / Bridge Interface. Multi PBX Presence is coming soon
Fixed validation issues in company phonebook directory saving
Fixed exception when importing CSV file to company phonebook
Calls forwarded to voice mail are now counted as unanswered calls
New Features and Changes for 3CXPhone for Windows Client Version
New Features
The Presence Information screen can now be maximised, giving you a great scope on the presence of your colleagues
The Active Calls section is dockable and the presence information screen can be customised to suit the user's needs
Ability to control calls such as Transfer, Drop, Divert, Listen, Whisper and Barge In (Listen, Whisper and Barge In included in 3CX Phone System Pro Edition)
iFields help links added to 3CXPhone for Windows
Ability to make calls using CTI when 3CXPhone for Windows is in 'Out of office' mode
Fixes
Fixed Cancel button in 3CXPhone for Windows
Fixed selection bug when double clicking in the presence full screen window
Fixed Cancel call in Yealink Phones (All)
Improved the 3CX API connection and reconnection methods
Voicemail time is now displayed correctly
Chat time is now displayed correctly
Voicemails are now sorted by the most recent
Known Issues:
Call history in 3CXPhone for Windows is currently being worked on
Active Calls show only internal and external group calls. Parked calls, IVR Calls, Queue Calls coming soon
Update 3CXPhone in a Flash with the New 3CX Push Update Technology
If you already have 3CX Phone System 12 installed, you'll automatically receive the new 3CXPhone for Windows client version as 3CX Phone System 12 pushes out client updates to all your users, allowing you to take care of other business!
Update to the latest 3CX Phone System version by logging in to the 3CX Windows Management Console from Start > All Programs > 3CX Phone System > Windows Management Console and navigate to the 3CX Phone System Updates node > 3CX Service Packs / Updates. Alternatively, you can download and install the full client msi setup from the link below.
Check out the latest 3CXPhone for Android client release here!
Downloads
Download 3CX Phone System Version 12 Beta.
Download 3CXPhone for Windows.
Download 3CX CRM Integration from http://downloads.3cx.com/downloads/3CXPlugins.exe
Documentation and Links