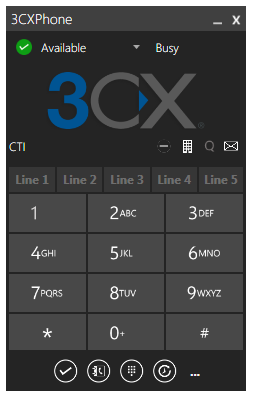 With Friday's release of the new 3CXPhone client for Android and the Beta version of 3CX Phone System 12, we're pleased to announce the release of the new and improved 3CXPhone client for Windows!
3CX MyPhone has been replaced and merged into a single 3CXPhone client for Windows, Android and iPhone. This latest version of 3CXPhone for Windows is available to download and provides rich Unified Communications such as being able to view the presence of your colleagues and setup conference calls easily. It's also CTI ready – allowing you to control your IP desk phone from the client.
New Features
Setup conference calls easily.
See the presence of your colleagues

Multi-Column Presence coming soon.

Configure your Forwarding rules through the client.
Administrators can disable call forwarding for individual users.
Transfer a call using your phone book or from the call history entries.
Added presence page that can go to full screen.
Fixes
Fixed numerous bugs when in CTI mode
Fixed detection of multiple registrars
Fixed disconnect call in CTI mode for Yealink T22 and T32 phones.
Incoming calls are not correctly displayed
Custom Profiles "Available 2" and "Out of Office 2" can now be renamed per user.
Update 3CXPhone in a Flash with the New 3CX Push Update Technology
If you already have 3CX Phone System 12 installed, you'll automatically receive the new 3CXPhone for Windows client version as 3CX Phone System 12 pushes out client updates to all your users, allowing you to take care of other business!
Update to the latest 3CX Phone System version by logging in to the 3CX Windows Management Console from Start > All Programs > 3CX Phone System > Windows Management Console and navigate to the 3CX Phone System Updates node > 3CX Service Packs / Updates. Alternatively, you can download and install the full client msi setup from the link below.
Download 3CXPhone for Windows
Download 3CXPhone for Windows.
Documentation and Links