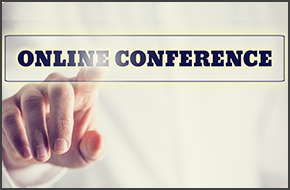 3CX WebMeeting is a web conferencing solution that enriches your standard audio calls by adding high definition video, file sharing and remote control features, transforming the way you communicate with your customers, partners and colleagues.
Schedule or join an online conference without needing to install cumbersome, time intensive clients that ask you to update your Flash and Java plugins. 3CX WebMeeting is clientless as it leverages WebRTC, allowing you to hop into an online conference in just a few mouse clicks!
Communicate Faster and Visually with 3CX WebMeeting
Are you tired of guessing how your customer has facially reacted to your question or answer? With an online conference, you no longer need to guess or assume if your customer is on the same wavelength as you are virtually put in the same office as your customer, allowing your to see their facial cues as well as hear their tone of voice.
Cross sell and upsell your products and services right there and then by demoing your new products and by sharing your screen or a PowerPoint presentation. 3CX WebMeeting gives you the edge as you can serve your customers quickly and in real-time and gain the sale.
Become More Productive & Save Travel Costs
Are you spending more time travelling to and from meetings than you are actually carrying out meetings? An online conference allows you to be more productive as you can cut out the travelling. 3CX WebMeeting brings the meeting to you, which means that you not only save valuable time that could be allocated to finding new customers, but you save on transportation and other travelling costs too.
Superior Customer Service with Online Conferencing
Beef up your customer service and with it, the loyalty your customers show your firm by resolving queries and issues with an online conference. Technical issues may arise and your customers need to be supported quickly and efficiently. An online conference gives you the flexibility to remotely control your customer's computer and resolve the issue right there and then.
Your customer agents may need to install a software patch or send over a file to get your customer back on his feet. With 3CX WebMeeting, transferring files to a computer that's joined to your online conference is easy and definitely beats having to conduct expensive in-person service calls.
3CX WebMeeting is available integrated with 3CX Phone System. Try it out for Free!