3CX recognised for award winning VoIP PBX and Partner Program benefits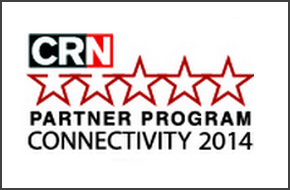 LONDON, UK JULY 28, 2014 – 3CX, developer of the award-winning Windows VoIP PBX 3CX Phone System, announced today it has been included in the prestigious CRN 2014 Network Connectivity Services Partner Program Guide (PPG), which highlights the service providers and technology vendors whose offerings provide the underpinnings of today's mission-critical network connectivity solutions. Deep partnerships between IT solution providers and the telecom industry's master agents and voice and Internet service providers (ISPs) are becoming the norm as customers demand a single services and support relationship for their voice, data and Internet needs. As these industries converge, CRN's annual Network Connectivity Services PPG has become a critical resource that allows solution providers to locate vendors offering complementary connectivity solutions and services. All of the vendors featured in this guide have partner programs that embrace the IT channel.
3CX Phone System has drawn praise for being an award-winning open standard, Windows-based IP PBX that provides superior UC features. Designed with the IT administrator in mind, 3CX Phone System is easy to install and manage. By choosing 3CX Phone System, businesses can cut call costs by up to 70% and increase productivity. With 3CXPhone for Android and iOS, 3CX enables increased mobility by allowing employees to take their office extension wherever they go. 3CX also offers a number of additional products for 3CX Phone System, including: 3CX Cloud Server, 3CX CRM Integration Module and 3CX Hotel Module, to provide a flexible all-round communications solution.
The award-winning 3CX Partner Program has been designed to promote and reward loyal and dedicated partners, while giving Partners the flexibility to choose their own goals through the four different partnership levels. 3CX Partners can generate profitable recurring income by reselling 3CX products with their own services. Benefits of the 3CX Partner Program include: access to free in-house version of 3CX Phone System, free partner training events, and certification programme. Through the 3CX Partner Portal partners can directly access leads and download marketing material. In addition, 3CX Partners have direct access to the 3CX Support Team, which assists 3CX Partners so that they in turn can assist their customers.
Nick Galea, CEO of 3CX said:
"At 3CX we understand that businesses are looking for a personalised service which is on hand to offer technical expertise and assistance, and as such we are a 100% channel company. Our Partner Program has proven to be very successful and we currently have over 10,000 partners worldwide- a number which is growing every day. We are committed to providing our Partner network with a cutting-edge and reliable solution which they are proud to sell."
Robert Faletra, CEO of The Channel Company, publisher of CRN said:
"As network solution providers expand their businesses to provide the cloud and connectivity services their customers demand, telecom agents and ISPs are eyeing the IT channel as an additional source of revenue and an in-road to a whole new set of clients. We're witnessing a fundamental change in the IT industry as two formerly disparate types of solution and service providers become one. Through resources like the CRN Network Connectivity Services Partner Program Guide, solution providers seeking partners are better able to identify and connect with organizations specifically chosen for their channel-savvy go-to-market strategies and the enthusiastic and creative ways they are embracing these shared opportunities."
The Network Connectivity Services Partner Program Guide will be featured in the August issue of CRN, the top news source for solution providers and the IT channel, and will be available online at www.crn.com.
About 3CX (www.3cx.com)
3CX is the developer of 3CX Phone System which is an open standard unified communications platform for Windows that works with standard SIP phones and replaces any proprietary PBX. 3CX Phone System is more manageable than standard PBX systems and delivers substantial cost savings while increasing productivity. Some of the world's leading companies and organizations use 3CX Phone System, including Boeing, Mitsubishi Motors, Intercontinental Hotels & Resorts, Harley Davidson, City of Vienna and Pepsi. 3CX was named a CRN Emerging Vendor in 2011 and 2012 and has been awarded CRN's 5-Star Partner Program rating in 2013. 3CX has been featured in CRN's Annual Network Connectivity Services Partner Program Guide for 2014. 3CX has also been awarded Windows Server Certification and won the Windowsnetworking.com Gold Award, the Windows IT Pro 2008 Editor's Best Award and a Best Buy Award from Computer Shopper. 3CX has offices in Australia, Cyprus, Germany, Hong Kong, Malta, South Africa, the UK and the U.S. Visit us at: https://www.3cx.com & on Facebook at: www.facebook.com/3CX/, follow us on Twitter @3cx.
About The Channel Company (www.thechannelcompany.com)
The Channel Company is the channel community's trusted authority for growth and innovation, with established brands including CRN, XChange Events, IPED, and SharedVue. For more than three decades, we have leveraged our proven and leading-edge platforms to deliver prescriptive sales and marketing solutions for the technology channel. The Channel Company provides Communication, Recruitment, Engagement, Enablement, Demand Generation and Intelligence services to drive technology partnerships. Learn more at www.thechannelcompany.com.