The latest V15.5 Update – 6 – has gone gold. And it's an important one. Not only does it come with many new features & improvements but it also has updated SSL certificates that are required.
Web Based Softphone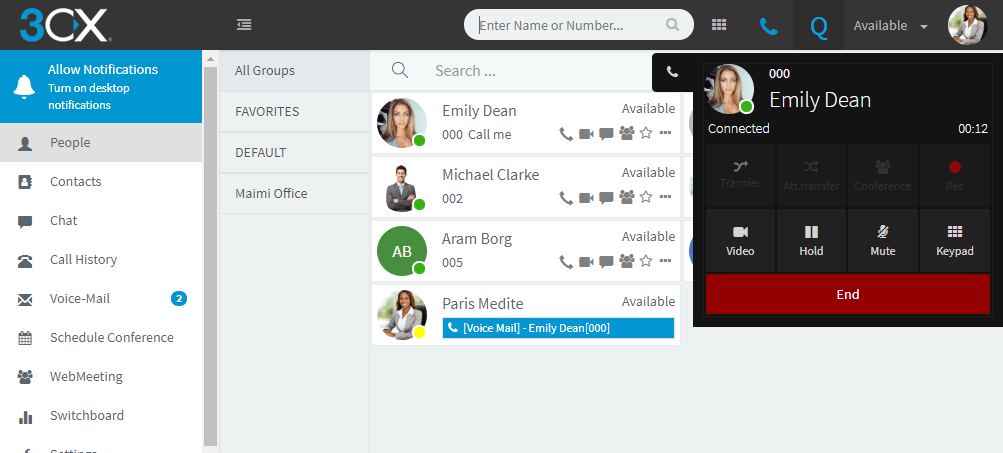 Now you can make phone calls right from your browser without even installing a softphone. Update 6 integrates a WebRTC softphone in the webclient.
As this feature is still in beta, it needs to be enabled from the management console. You can do this from Settings > PBX > General > Enable WebRTC softphone in Web Client. The web client will then have an additional phone option under the phone icon in the top right corner, as shown below.

SSL Security Updates
In the next month we will be updating the security certificates on our servers, required for secure communication with 3CX. This means that you will need to go to update 6 as soon as possible. We continue to add many security features under the hood to ensure safe operation of the PBX and secure communications.
Faster Smartphone Apps with Improved PUSH
The PUSH functionality for the iOS and Android smartphone apps has undergone major improvements. It is now much faster and more reliable.
Grandstream FXS and FXO gateway support
Update 6 adds support for Grandstream FXS and FXO gateways. Check out the guides:
Other additions:
Import / export of SIP Trunk Templates.
Ability to opt-in and out of call recordings in queues.
Added distinctive ringing for multiple queues.
Added chat toasters to incoming chat messages.
Updated the password policy for all password fields changing the length from 6 to 10 and forcing the use of an upper and lower case character.
Added OPUS codec support.
Support for Avaya IP Phones 9601, 9608G, 9611G, 9621G and 9641G in legacy mode.
Ability to configure different codec priority for internal and external calls.
Microsoft Dynamics 365 CRM is now supported.
Welcome Emails are now available in 5 languages.
QR code added to welcome email as attachment
Check out our What's New in Update 6 video.
For a complete list of release notes, see the change log.
How to Upgrade
Go to the updates section on the dashboard of the management console where you will see a release update 15.5 SP6. Click on the update and SP6 will be installed.
Important: When upgrading to Update 6 note that the Audio-UDP ports have changed from 9000-9500 to 9000-10999. Adjust your firewall configuration accordingly. And the Internal Port Range needs to change to 7000-8499 (UDP).
If you want to download a new installation you can download the Linux version or the Windows version.
Linux: Download 3CX ISO from here.
Windows: Download the Windows installation from here.